Balotelli's latest: '2000 euros to drive scooter into sea'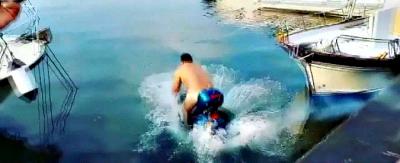 Catello Buonocore about to take the plunge. Photo credit: Il Fatto Quotidiano
NAPLES – Footballer Mario Balotelli is again at the centre of controversy for off-the-field antics. This time, he offered a friend 1800 euros to drive a scooter into the sea. The police, less than impressed by the viral video, want to talk to the young man, reports Il Fatto Quotidiano.
 Balotelli, 28, challenged the owner of a local bar in Mergellina, near Naples, to strip to his underwear and plunge into the sea on his scooter. Catello Buonocore duly obliged, keeping his trainers on of course, and zoomed off the quay into the water.
 Given that the moped was only worth some 600 euros, as Buonocore later told reporters, it was an easy decision for the bar-owner. The former Manchester City and Liverpool striker kept his side of the bargain and paid up, publicising the events on Instagram.
 Amazingly, Balotelli even shared footage of the moped being retrieved – in working order.
 However, the police failed to see the funny side. Both the Coast Guard and the Municipal Police have opened investigations on charges of incitement to commit crime and gambling for Balotelli. Buonocore may face charges of abandoning hazardous waste, along with two other unnamed individuals.
 Balotelli, who has gained over 30 caps for Italy, has repeatedly faced difficulties in his glittering career over events away from the football pitch. Famously, the night before the Manchester derby between City and United in 2011, the police were called after the striker set his bedroom on fire by setting off fireworks indoors. He was later made Manchester's ambassador for firework safety, a role he took up with an ostentatious show of solemnity. 
 He was released by Marseille at the end of last season and is currently without a club.
gb