IFAD focuses on rural youth in Mali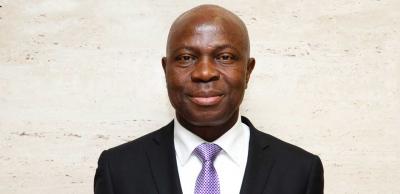 Gilber F Houngbo. Photo credit: IFAD
ROME – The UN's International Fund for Agriculture Development (IFAD) will look to stengthen its partnership with Mali and provide employment opportunities for rural youth, improve food security and reduce poverty. Its head, Gilbert F. Houngbo, will meet officials including Mali's president Ibrahim Boubacar Keïta to discuss the partnership, according to IFAD sources.
 Mali's very young population will be one sector IFAD is looking to address. The West African  country's economy is overwhelmingly agricultural, as well as based around gold and mineral mining. IFAD will attempt to support, through investment, the government's strategies to modernize agriculture and transform rural areas.
 Malian farming provides some 38 percent of GDP and 80 percent of employment.
 Mr Houngbo, who is from Togo, will visit Mali from July 1 to 3. He will discuss, among other things, the challenges posed by climate change and the need for greater investment to improve agricultural productivity and competition. There will be an emphasis on the role of smallholder farmers and the role farming can play for rural youth and women.
 Houngbo will also meet the Prime Minister and Minister of Economy and Finance, Boubou Cissé, the Minister of Agriculture, Moulaye Ahmed Boubacar, and the Minister of Employment, Jean Claude Sidibé.
 IFAD has previously invested in Mali. Houngbo will review an ongoing project in the country, the IFAD-supported Rural Youth Vocational Training, Employment and Entrepreneurship Support Project (FIER). The project, which cost around 43.6 million US dollars, aims to empower young men and women in rural areas by giving them access to employment in the agricultural sector.
 Since 1982, IFAD has financed within Mali some 15 rural development programmes and invested 302.1 million US dollars. The agency claims to have directly benefited more than 516,000 rural households.
gb