End to Sea Watch migrants standoff? Germany offers help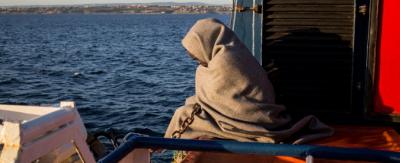 A migrant onboard a Sea Watch boat, Jan 31. Photo credit: AFP
ROME – A Sea Watch vessel carrying 43 migrants on board may soon be able to dock in Germany, after searching for a place to land for the past seven days. Some 50 German municipalities have said they welcome the migrants, though the German government maintains this is an EU issue, reports Il Fatto Quotidiano.
 This follows an extended argument between Sea Watch, a German NGO which rescues migrants in the Mediterranean, and the Italian government. When the latter closed Italian ports to the vessel last week, the boat proceeded to Lampedusa where it obtained permission for 10 migrants to land, bringing the number on board from 53 to 43. It is currently docked 16 miles off the Sicilian island.
 Efforts to keep the migrants out of Italy were led by League's Interior Minister Matteo Salvini. The directive to forbid docking, which is allowed under Italy's new Immigration and Security Law, was also signed by Minister for Transport Danilo Toninelli and Minister of the Economy Giovanni Tria on June 15.
 They argue that they have obtained for the ship the right to dock in Libya, so it should go there. "Sea Watch have received from the Libyan Coast Guard the signal to coordinate operations [to dock]. Unfortunately, they decided to turn away and to head north to Italy…As a result, they cannot land in Italy," said Toninelli.
 Sea Watch, on the other hand, has repeatedly made it clear that they consider it illegal to take the migrants to Libya, which is not considered a safe country. They are supported in this legal stance by the UN's High Commission for Refugees (UNHCR).  
 In the face of Italian intransigence, German municipalities have taken the issue into their own hands. A government spokeswoman said the following, however: "The responsibility for receiving the migrants belongs to the European Union. We are unhappy with the progress in this process so far. We are working with our partners in the EU to find a shared solution."
 Many will hope this signals an end to the threats faced by these migrants. But it is clear, no matter what happens, that serious disagreements remain within the European community about how to deal with individuals traveling from North Africa to southern Europe.
gb