Cinema America President threatened to keep quiet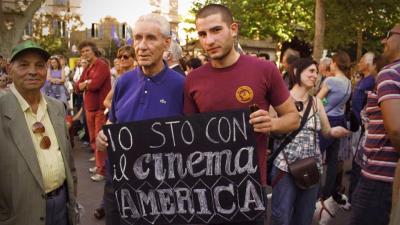 Valerio Carocci, Cinema America President, showing his support for the assault victims. Photo credit: Zero EU
ROME - The President of Cinema America's ex-girlfriend has been threatened and told to keep her former partner quiet following the publicity surrounding the physical assault on four young members of the open-air cinema group on Saturday night.
 Valerio Carocci's ex-girlfriend was allegedly pushed up against the side of a car in Trastevere, where Cinema America is based, and intimidated by two male aggressors. "Tell your boyfriend to calm down," the two purportedly told her, in reference to Carocci's vocal opposition against the attacks of the Cinema's members.  
 Police are investigating the matter further in connection with the assault on four 20-year-old boys who were returning home from a film screening wearing Cinema America t-shirts. "You are wearing a Cinema America t-shirt," one perpetrator is said to have shouted at the boys, adding "you're anti-fascist, take that shirt off now." The four were punched, kicked and hit with glass bottles after refusing to take off the clothing in question.
 The attack has drawn sharp criticism from across Italy and has been seen as symptomatic of a "growing climate of intolerance" in Rome and the nation more widely. Democratic Party leader Nicola Zingaretti tweeted: "We are all… on the side of the young people who fill Rome's evenings with culture," before adding that he hoped the offenders were quickly arrested. Rome's Mayor Virginia Raggi, meanwhile, expressed her solidarity with the victim's and condemned an act that has no place in "an open and inclusive city" such as Rome.
 Four men have so far been detained in connection with the attack.
ea