Frustrated Totti resigns from Roma director position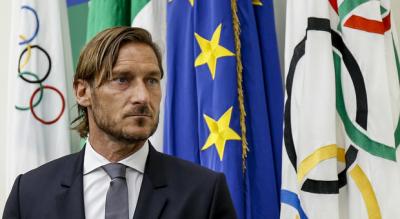 Totti made the announcement at an Olympic Committee meeting. Photo credit: Il Messaggero
ROMA - A heartbroken Francesco Totti has said he will be stepping down from his role as director of AS Roma and leaving the club after 30 years.
 "I resign as a Roma executive. I was hoping that this day would never come, [but] instead this ugly and heavy day has arrived," Totti told press at an Italian Olympic Committee conference. "This is far worse than retiring as a player. Leaving Roma is like dying."
 The former Italy striker said his decision was as a result of a poor relationship with the heavily-criticised Roma owner, the American president James Pallotta. "Presidents pass, coaches pass, players pass, but the flags do not," Totti declared, in a sideswipe at his former employer. Pallotta, who has owned the club for eight years, has quickly grown out of favour among Roma tifosi for seemingly not caring about the club, its culture and its history, and for treating it like a business.
 "Pallotta surrounded himself with the wrong people and he only listens to them. Everyone makes mistakes, but if you make the same mistakes for eight years, you have to ask yourself some questions," Totti said.
 Totti also criticised the lack of individual agency he had in his role. "I never had the chance to work on the technical area," he said, arguing that despite his high-ranking role in the club's hierarchy he was side-lined from all major decisions. "They knew my intentions and what I wanted, to give so much to this club and team, but they never wanted me to, in all honesty," he added.
 Totti spent 30 seasons at the club as both a player and as a senior member of staff. His scored 307 goals in 785 games as a Roma player before he retired in 2017. He won the Serie A with the club in 2001, and twice won the Coppa Italia.
ea