Ex-League consultant arrested for alleged mafia links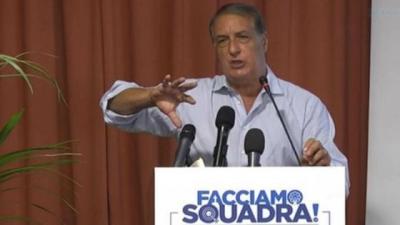 Paolo Arata at a League convention in 2017. Photo credit: La Repubblica
PALERMO - A former League consultant and Forza Italia member of parliament has been arrested, along with his son, for alleged corruption, bribes, money laundering, and links to notorious Cosa Nostra boss Matteo Messina Denaro.
 Paolo Arata, who was formerly Matteo Salvini's leading energy consultant, and his son Francesco have been arrested by local Sicilian officials following months of investigations into the two. Inquiries found that they are purportedly responsible for bribes of between 11,000 and 115,000 euros to local wind energy companies in exchange for political favours.
 Il Fatto Quotidiano have, further, disclosed that their illegal monetary transactions involved Vito Nicastri, a local energy sector entrepreneur thought to be amongst Messina Denaro's most prominent allies. Nicastri is has also been arrested for alleged links to the mafia along with his son, Manlio.
 Arata's dealings are also thought to have involved Armando Siri, the League undersecretary who was fired in May for allegedly taking bribes from businessmen with links to the same mafia branch in exchange for favourable legislation. Rome's prosecutors are currently investigating these links further.
 "I respect the work of the judiciary, I do not want to get involved… [but] whenever there is the slightest suspicion of something in which ties to corruption and the mafia emerge, politicians must know how to distance themselves immediately," deputy prime minister Luigi Di Maio told AdnKronos. "You could smell it a mile off," he later added.
ea