Redgrave receives career Globo d'Oro as nominees revealed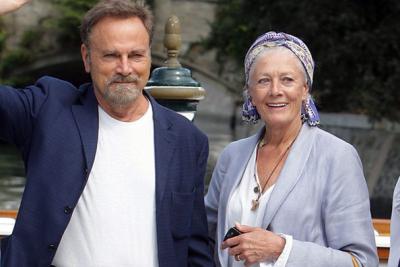 Both Redgrave (right) and husband Franco Nero will receive career prizes. Photo credit: Zimbio
ROME - English stage, screen and television actress Vanessa Redgrave is set to receive a Globo d'Oro for a glittering career that spans over 60 years when judges from the Rome Foreign Press Association host the 59th edition of the annual Italian film award in June.
 Redgrave's achievement was revealed by the adjudicators as they announced the nominees for this year's event which saw Italian film "Il traditore" follow up its impressive debut at the Cannes Film Festival with four nominations, amongst which best screenplay and best actor.
 Aside from revealing its nominees, the adjudicators also revealed the winners of their uncontested awards. Franco Nero, Redgrave's second husband who has performed in over 200 lead and support roles in films and television programmes, is set to receive a career prize alongside his partner while Ludovica Nasti will take home the award for Best Upcoming Actress for her role in "L'amica geniale".
 The Globo d'Oro's Gran Premio, meanwhile, will be awarded to classical composer, musician and conductor Ezio Bosso, who will also perform at the event. "Bosso is an Italian who has given his art to the cinema and has crossed borders to become an ambassador of our nation throughout the world," Claudio Lavanga, co-head of the adjudicating, panel said ahead of the event.
 The Globo d'Oro will this year also introduce a new category: Best Television Series. Competition to claim the inaugural prize for the category is high, with adaptations of Elena Ferrante's "L'amica geniale" and Umberto Eco's "Il nome della rosa" both being very well received upon release.
Full nominations as follows:
Best Director: Marco Bellocchio (Il traditore), Matteo Garrone (Dogman), and Alice Rohrwacher (Lazzaro Felice)
Best Actress: Jasmine Trinca (Croce e delizia), Francescia Niedda (Ovunque proteggimi), and Anna Foglietta (Un giorno all'improvviso)
Best Actor: Alessandro Borghi (Sulla mia pelle), Marcello Fonte (Dogman), and Pierfrancesco Favino (Il traditore)
Best Film: Bangla, Il campione, and La terra dell'abbastanza
Best Sound Track: Luca Ciut (Resina), Nicola Piovani (Il traditore), and Gabriele Panico and Franco Eco (Il bene mio)
Best Cinematography: Il primo re, Daria e Antonio Ricordi?, Il bene mio
Best Screenplay: Marco Bellocchio, Valia Santella, Ludovica Rampoldi, Francesco Piccolo (Il traditore), Alessio Cremonini, Lisa Nur Sultan  (Sulla mia pelle), Alice Rohrwacher  (Lazzaro Felice)
Best Television Series: L'amica geniale, Il nome della rosa, La porta rossa
Best Documentary: Butterfly, Pugni in faccia, The disappearance of my mother, Selfie, Chiudi gli occhi e vola
 The award's adjudicators for 2019 are: Alvise Armelli, Marie Delphine Bonada, Marina Collaci, Ahmad Ejaz, Ewout Kieckens, Claudio Lavanga, Patricia Mayorga Marcos, Vera Shcherbakova, Alina Trabattoni and Giada Zampano.  
 The 59th Globo d'Oro awards will be held in Villa Wolkonsky, the official residence of the British Ambassador to Italy, on June 19.
ea