Meandering through Portugal's pristine panoramas
A typical beautiful sunset in Caminha
CAMINHA - I first visited Caminha, a small town in North Portugal, in 2017. There was a lot more there than I expected so I made sure to go back there last year.  
 I flew to Porto airport with a friend and rented a car so we could do a road trip. We started with a visit to the conveniently located town of Braga only a half hour car ride, or 45 minutes by bus, from Porto airport. One can go there as a day trip if staying in Porto, as it's one hour by train from Porto S. Bento, Porto's (and perhaps Europe's) most beautiful train station. 
 Braga is a small city but there are a few things to do, with the Church of Bom Jesus, being the most popular landmark. The church sits atop a hill, which you can either access via a scenic staircase, or by the oldest funicular in Europe that is powered by water.
 We took the scenic way, zigzagging up the 577 steps, enjoying the views and statues on the way. If you go in spring you can enjoy the flowers that bloom everywhere.
 After our exertions we meander downhill to town to Rua do Souto, a pedestrian only street where old Braga comes alive in the evening.  We start at Arco da Porta Nova, an old point of entry in the city walls - now long gone, although some remnants can still be found, inclusive within some restaurants. This point of entry or gate, never had a gate, and that's why Braga's residents are humorously known in Portugal for never closing the door behind them.
 Along this street you'll find the Se de Braga, one of Portugal's most influential Roman Catholic cathedrals dating back to 1509. Nearby is Praca Central, where a lot of locals hang out and have coffee at the Largo da Arcada. 
 My friend makes sure to have a Cozido a Portuguesa, a traditional meat stew that usually includes shin of beef, pork, Portuguese sausages served with cabbage, carrots, turnips, rice, potatoes, and collard greens. This is one of the most hearty meals a meat eater could try. She also had a bifana no pao, a pork steak on bread. Like most Portuguese food it is meat based and simple, yet so tasty, especially with a cold beer. 
 As a non meat eater, I settle for the traditional salted cod fish and after dinner we sit enjoying the ambience of the square on a park bench. 
 Spending the afternoon and evening in Braga is enough to get a feel for it. We leave the following morning again heading North towards Caminha. Having the car makes it easier to visit Ponte de Lima, the oldest villa in Portugal where my friend again delighted herself in another traditional meat dish with rice, Arroz de Sarrabulho, best had in the shabbiest restaurants.
 We are in the region of Viana do Castelo, a port town, and after lunch, Monte de Santa Luzia is our first stop. It's an iconic mountaintop church with a small museum and a dome that offers panoramic views.
 Before rushing into the Santuario de Santa Luzia, we walk the exterior of the  church. From there one can soak in the panoramic views across the Limia river valley and Atlantic Ocean. 
 After a couple of hours enjoying the mountain we leave before we lose the day light and drive the charming back roads to find our way to Rinoterra, a stately converted farm and manor house. The hotel is a home away from home nestled in the hillside of Caminha. After being greeted by the friendly staff we drop our bags to drink in the sun set from the Praia Caminha, one of Northern Portugal's best beaches. This is where Portugal meets Spain, and and the two are split by the river Minho which lends its name to the region. The setting is fabulous with the Spanish mountain, Santa Tecla, as a backdrop, alongside the 17th century island fortress nestled along the beach. 
 We watch a pink and yellow sky fall on little fishing boats sitting still in the calm water, the occasional gentle wave rocking them to shore. Soon it's time to eat dinner at Amandio, a discreet local restaurant, a little way back from the town front. 
 The first thing you notice about Amandio is that it's furnished in a unique and fabulous, quirky yet traditional Portuguese style. I would recommend visiting there for the decor alone. Amandio Rodrigues, the owner, has furnished it like it's your own living room just with a lot more life and art. He is originally from Braga, has decades of experience as a chef and writes about food and wine for local and international magazines. He treats us like celebrities, matching a different wine with each course, and stuffs us with local delicacies. He serves everything on plates decorated with his own face in a caricature and it's a real pleasure and experience. 
 We thank Amandio for a wonderful time and head back for an early night so we can be ready for our next day's adventure of Kayaking with tour group MinhAventura. 
 We wake up refreshed from a peaceful sleep at Rinoterra, to indulge in an amazing breakfast served by the local chef, Ana Guimarães, who creates a modern twist on traditional dishes.
 Still full we meet our kayak guide provided by MinhAventura, Sergio, who takes us to the river.  Sergio mentions that normally in the summer he guides up to sixty people kayaking a day, even non-swimmers and families with three years old can go.
 A two person kayak is 40 euros and a third person, if it's a child, is free. The company also arrange paddle boarding and bike rental. The long beautiful and clean river is a delight of nature, which invigorates us. 
 After the cold river we head back to Rinoterra for a hot jacuzzi in the spa. Afterwards I lie in the sun by the swimming pool looking across at Spain and the mountains. We lounge in the swinging chairs enjoying the sound of the birds and the peaceful ambience.
 Feeling refreshed by the clean air, nature, good food and the calm and peace of Caminha, it's hard to leave. The next day we depart for a stress-free drive back to the airport, stopping at Praia do Cabedelo beach on the way. This beach is a real treasure as it's full of kite surfers doing magical stunts, keeping viewers amazed for hours.
 We enjoy a pint of Sagres, the local beer, at one of the beach bars called Aquario before having to depart with sweet sorrow, hoping we can return soon.
rr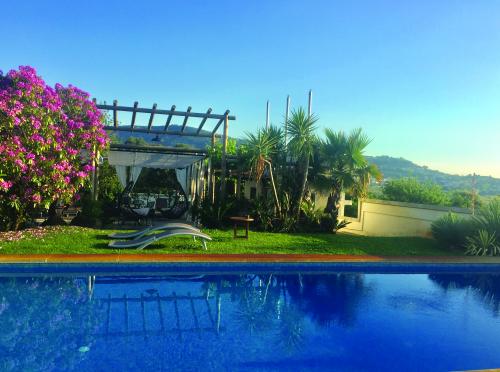 Relaxing by the pool in the tranquil atmosphere of the Rinoterra Hotel
A wonderful selection of the region's best