65 refugees drown off Tunisian coast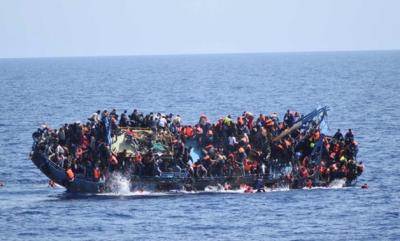 A refugee boat off Libya in May 2016. Image: Reuters
ZAURA – Around 65 people have drowned as they made their way to Europe from North Africa, according to sources from UNHCR, the UN's refugee agency.
 The boat left Zaura, a town around 120km west of Tunis, on Thursday evening but began to drift in the rough sea. The vessel sank in the early hours of Saturday morning, 45 nautical miles from the Tunisian coastline.
 The agency reported that around 65 people had drowned and 16 were rescued from the water by the Tunisian navy. One of those rescued was taken to hospital immediately, while the remainder had to wait for authorisation to disembark. The death toll makes this one of the worst refugee incidents in the Mediterranean to be verified in recent months.
 "This tragic incident reminds us of the terrible risks to which those who attempt to cross the Mediterranean are exposed," said Vincent Cochotel, special envoy of the UNHCR for the Mediterranean.
 The staff of the UNHCR were quick to assist survivors, providing them with emergency shelter, food and blankets and evaluating their requirements for protection, according to UN sources. Medical assistance was also provided by the Mezzaluna Rossa, the partner of the UNHCR in Tunisia.
 Since mid-January, some 117 people have died or gone missing in the Mediterranean. The UNHCR has repeatedly expressed concern about the lack of a suitable search-and-rescue strategy in the region.
 In the first four months of 2019, 164 people died making their way from Libya to Europe. This is quite considerably lower than in recent years, but reflects the lower numbers who attempt the journey rather than a lower risk to those who undertake it. One person dies for every three who reach Europe.
gb