Cardinal investigated for restoring homeless shelter power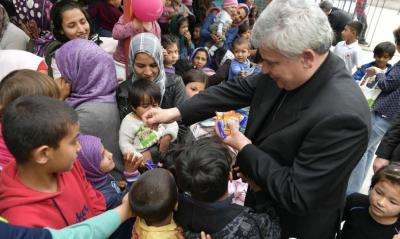 Konrad Krajewski visiting residents at the homeless shelter in Rome. Photo credit: Panorama
ROME - Pope Francis' Polish Almoner is under investigation by Italian authorities after news broke that he had restored power to a building occupied by homeless squatters in Rome on Sunday.
 Cardinal Konrad Krajewski, the pope's official alms-giver, made headlines when he climbed down a manhole to turn on the electricity supply at the Santa Croce in Gerusalemme housing block in Rome, which had been cut off a week earlier by Acea, the building's energy supplier.
 However, the Polish cardinal now finds himself under investigation for taking matters into his own hands and acting on Italian, not Vatican, soil. Investigators are looking into whether the cardinal was entitled to act as he did, and whether he violated any safety protocols in doing so.
 Krajewski's attests that he personally restored power to the building which Acea have declared may leave the building, and its residents, at risk. In a statement released by the firm following the event, they noted that turning on the energy supply is a challenging and complex undertaking and one that must be carried out by a certified technician.
 Acea have subsequently absolved themselves of any responsibility, saying that the return of electricity was not authorised or carried out by them directly and pointing out that Krajewski would have had to break through an official seal to access the relevant power unit.
 The circa 450 residents of Santa Croce in Gerusalemme, homeless Italian citizens and migrants, among which 100 minors, had been without electricity since May 6 when Acea cut the power supply to the block on account of a 300,000 euro debt that the building has racked up, outstanding payments dating back to 2013. Those living in the block had consequently been without light, hot water, and power for a week.
 La Repubblica heralded Krajewski as "the pope's Robin Hood," however their take on his actions is not unanimously shared in Italian society. "I suppose that the pope's Almoner will also pay the 300,000 euros of unpaid bills and help all Italian families who find themselves in need," stated Matteo Salvini in a direct challenge to the cardinal.
 The Vatican's actions have also drawn strong criticism from far-right political party Forza Nuova, who have repeatedly criticised the pope's continued support for immigration. Championing a so-called war on immigration, Forza Nuova members accused the pontiff of having become "a universal symbol of the most shameful betrayal."
 "The pope should safeguard… faith, promote doctrine and truth, not encourage Islamic immigration," the organisers for Forza Nuova's upcoming protests wrote on Facebook. "Political positions contrary to the national interests must be challenged, we must build walls to defend civilisation, not bridges that encourage the invasion of enemies."
 Both Salvini and Forza Nuova were, however, were quickly rebuffed by deputy prime minister Luigi Di Maio who lauded the humanity showed by the Church, their actions moving beyond politics and fighting to ensure basic human rights for all.
 Krajewski too, in an interview with Corriere della Sera, played down the event. "I don't want it to become a political row," he said. "I'm an alms-giver and my job is to help the poor. These families and children finally have light and hot water again. From now on, I'll pay the bills. I take full responsibility. If they try to fine me, I'll pay the fine."
 "One cannot live without electricity." Krajewski added, "Seeing as no one was doing anything, I decided to do it myself. I didn't do it because I was drunk... my mission is to help people in need." 
ea