Tiger masters Augusta as Molinari fades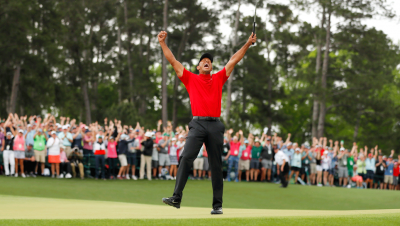 Tiger woods celebrates winning his fifth major. Photo credit: PGA
ROME - Tiger Woods rolled back the years at Augusta National Golf Club in April, producing a remarkable finish to win his first major in 11 years and cap one of the greatest comeback stories in sporting history. The Italian, Francesco Molinari, who had looked so strong throughout the week, faltered during Sunday's final round and finished in a tie for fifth place.
 As Woods rolled in the final putt to spark jubilant celebrations around Augusta's famous 18th green, it felt as if a cloud had been lifted. The American has been written off time and again in recent years after battling issues in his personal life and undergoing multiple operations on his ailing back and knees. Rewind a couple of years to the Past Champions' Dinner at the same tournament and Woods was telling close friends that he doubted whether he would ever play golf again. It has been an exceptional turnaround.
 "I'm a little hoarse from yelling," said the 43-year-old, in the immediate aftermath of his victory. "I was just trying to plod my way around all day then suddenly I had the lead. Coming up 18 I was just trying to make a five. When I tapped in I don't know what I did, I know I screamed. To have my kids there, it's come full circle. My dad was here in 1997 and now I'm the dad with two kids there. It will be up there with one of the hardest I've had to win because of what has transpired in the last couple of years."
 Woods' victory at Augusta marked his first Masters win since 2005 and his first title in any major championship since his famous win at Torrey Pines in the 2008 US Open. Tiger missed the 2016 and 2017 Masters with back and achilles issues and had a third back surgery a little over two years ago. However, since his latest return early last year, the golfing world had witnessed an almost unbelievable resurgence from the former world number one.
 In a remarkable season, Woods rose from outside the top thousand in the rankings at the end of 2017 to the top 15 at the beginning of this year, with his position helped by excellent finishes at the Open and US PGA Championships in 2018. He then capped off last season by winning the Tour Championship for his 80th PGA Tour title. His most recent Masters victory puts him on 81, one behind the record of 82 held by Sam Snead.
 "There is not a golfer in the world that isn't happy that Tiger Woods won," said three-time major champion and Team Europe Ryder Cup captain Padraig Harrington at Augusta National. "In the modern era, he's been a golf and sport superstar. This comeback story will break out from golf into all sports and all the news. It will be everywhere. There will be people who have never looked at golf and will be seeing this and wondering what it's all about."
 In a scene that was reminiscent of Woods' heyday, his nearest competitors faded away during Sunday's final nine holes, with Tiger at the top of the leaderboard and seemingly in supreme command of the situation. The American ended up winning by just a single stroke over Brooks Koepka, Dustin Johnson and Xander Schauffele, but in truth, his victory was never in doubt.
 Woods' closest rival throughout the week had been the Champion Golfer of the Year, Francesco Molinari, who won the Open Championship at Carnoustie last year, but the indomitable Italian finally cracked under the pressure, with the finish line approaching on the Sunday afternoon.
 Going into the final round, Molinari had only registered one bogey in his first 54 holes, which is unheard of given Augusta National's tricky design. Indeed Molinari, who is known as one of the grittiest competitors, held a two-shot lead going into the final nine holes, when the nerves began to set in. The first sign of a potential chink in the Italian armour came at the 10th after a wild approach shot left him with a treacherous chip to a raised green. Although Molinari saved his par, the jitters would return at perhaps the most famous par-3 in golf, Augusta National's 12th hole.
 A cautious swing would see the Italian find the water and suddenly he was tied for the lead with Woods. Another watery grave awaited his approach on the par-5 15th hole and Molinari's hopes for a first green jacket to go with his Open victory, were dashed for another year. However, it won't be long before Woods and Molinari lock horns again as the pair have been drawn to play together during the first two rounds of 2019's next major, the US PGA Championship, to be held near New York in May.
 For the game as a whole, Tiger's resurgence can not be underestimated. Viewing figures have been through the roof since his return and now he has secured the elusive 15th major championship, 11 years after his 14th, the hunt is back on for the most challenging record in the game and Jack Nicklaus' major tally of 18.
 "We're excited about it," said PGA of America CEO, Seth Waugh in a recent press conference. "Obviously Tiger, you know, he has impact, sort of like the moon landing. It's not golf; it's where-were-you-when kind of stuff. The impact immediately afterwards was extraordinary in terms of ticket sales… the requests just poured in across the board."
 It's safe to say that for the golfing world, Tiger Woods doesn't just move the needle, Tiger Woods is the needle.
dtw