Transport Secretary investigated for alleged corruption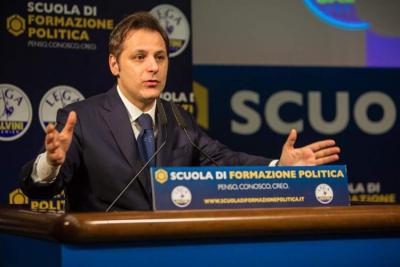 Siri is one of nine people currently under investigation. Photo credit: Scuola di Formazione Politica
ROME - The League's Transport Secretary has been placed under investigation on account of alleged corruption, judicial sources stated on Thursday.
 Armando Siri, who has been in the role since June 2018, is one of nine people to be investigated on account of financial irregularities.
 It is thought that money intended to help pass amendments on wind power legislation has gone missing.
 The current theory is that the money was instead given to Vito Nicastri, a contractor in the industry with links to Mafia leader Matteo Messina Denaro, in a quid pro quo exchange of favours.
 "Me, investigated? I don't know anything about it, I don't know whether to laugh or cry. I have never dealt with wind power. I'm speechless," declared Siri after news broke.
 Luigi Di Maio, the 5 Star Movement's leader, was quick to make his party's position clear: "It would be appropriate for… Siri to resign.
 "I don't know if Salvini agrees [with me], but it is my duty to protect the government and the integrity of its institutions.
 "A secretary under investigation for links to the Mafia is a serious matter. It is no longer a technical legal issue but a moral and political one."
 He went on to add: "I hope that he is innocent and we are ready to welcome him back into the government when his position in the matter is clarified."
 While magistrates in both Palermo and Rome do not at the time believe that Siri knew of links between Nicastri and Messina Denaro, he remains under investigation for corruption.