Cucchi beaten to death by police Italian court told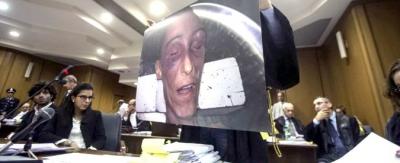 Photos of Cucchi's bruised body shocked Italy after they were released.
ROME - A police officer charged with the murder of Stefano Cucchi has told a courtroom in Rome that he witnessed his colleagues repeatedly hit and kick Cucchi in events that eventually led to the man's death, judicial sources revealed.
 Francesco Tedesco this week revealed that he had witnessed fellow police officers strike and kick Cucchi in the face, and had subsequently been told to keep the incident under wraps.
 The police officers involved had previously been acquitted in 2014 due to a lack of evidence, but the case was reopened by the supreme court a year later.
 Tedesco was one of three police officers charged following the death of Cucchi in in October 2009.
 Cucchi died in hospital a week after he was arrested while carrying 21 grams of hashish and three bags of cocaine, having been treated for fractured vertebrae and a broken jaw.
 Italy was left stunned by his death after photos of his bruised corpse, which weighed just 37 kilograms at the time, were made public.
 Cucchi's sister Ilaria, following Tedesco's confession, told those present in the courtroom: "Today, we finally feel less alone."
ea