St Paul's Church exhibit combating growing prejudice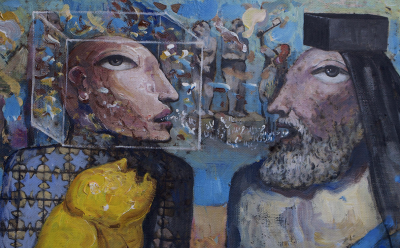 'Abraham: Out of One, Many' aims to combat growing combat prejudice and stereotyping across the West
ROME - CARAVAN, an international peacebuilding arts non-profit, has announced the launch of its new peacebuilding exhibition titled "ABRAHAM: Out of One, Many," which will visit the Eternal City from May 3 to June 9 this year.
 This exhibition, which will be held at St Paul's Within the Walls, is a creative response to today's climate of increasing prejudice and stereotyping, which is resulting in a new type of "tribalism." An exploration on living harmoniously, "ABRAHAMAM: Out of One, Many" seeks to address the recent rise of antisemitism and increasing anti-Muslim sentiment in the West.
 "ABRAHAM: Out of One, Many" (which plays off of the Latin motto "E pluribus unum" / "Out of many, one") focuses on what Muslims, Christians and Jews have in common as a result of their shared ancestor, Abraham.
 Abraham is a spiritual figure of distinct significance within the all three monotheistic faith traditions who is seen as a model of hospitality, and man who welcomes the "stranger" and embraces the "other". The exhibition thus aims to expose what we can learn from Abraham to live together more harmoniously and attempts to artistically answer the question, "What can Abraham can teach us today about freeing our world from sectarian strife?"
 The exhibition involves three celebrated Middle Eastern contemporary artists - Sinan Hussein, Qais Al Sindy and Shai Azoulay - from the Muslim, Christian and Jewish faiths. Each artist has created five paintings that focus on five specific themes from Abraham's life that can guide our world today to live together more harmoniously.  
 The exhibition, curated by CARAVAN president Rev. Paul- Gordon Chandler, will premiere in Rome, before touring for 20 months to some of the most heavily trafficked sacred spaces, including Paris, Edinburgh, and a handful of locations across the USA.
 The opening program and reception in Rome will be held on May 3 at 17:30 at St Paul's Within the Walls. It is open to the public. Sinan Hussein, a celebrated Iraqi artist participating in the exhibition, will be the special guest.
 St. Paul's Within the Walls can be found on Via Napoli, 58, 00184, Rome. Following its premiere, the exhibition will be open Monday to Friday from 09:00 – 16:30 (except Thursday mornings), Saturday from 09:00 – 13:00 and Sunday from 09:00 – 12:30. Admission will be free of charge. Further information can be found at www.oncaravan.org/abraham.
ea