School bus hijacked and set alight by driver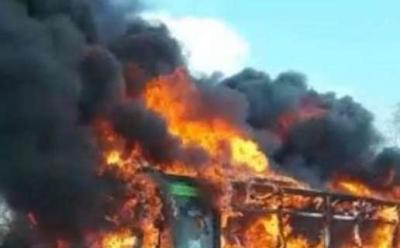 The bus was engulfed by flames
MILAN – A school bus driver of Senegalese origin seized and set fire to his vehicle packed with school children Thursday morning by dousing the interior with gasoline. According to police reports, he had planned a massacre in retaliation for the deaths of migrants at sea.
 Before setting it alight, the driver crashed the vehicle carrying 51 children from Vailati middle school in Crema into a police patrol car that was being used as a roadblock on the provincial road 415 at San Donato Milanese.
 He quickly lost control, pulled over at the side of the road and proceeded to pour petrol canisters inside the bus, setting fire to it while children rushed to get out through the back doors. Police officers had managed to force the doors of the back entrace open, allowing the children to escape.
The journey of terror lasted some 40 minutes for the children, the motive for the arson attack allegedly having being provoked by the driver's anger at the government migration policy.
 Twelve children and two adults were taken to hospital but authorities reported only one injury and quickly arrested the man.
 Ousseynou Sy, the 47-year-old Senegalese driver already has a criminal record for sexual violence and drink driving and has been living in Italy since 2004.
 When being questioned by head of the Milan-based anti-terrorist pool Alberto Nobili and prosecutor Luca Poniz, Ousseynou Sy stated that the case of the Mare Ionio ship was what triggered him to commit the crime. "I want to end it, the deaths in the Mediterranean must be stopped," he said.
 According to a testimony from one of the children on board the bus, the driver confiscated the children's phones and ordered a teacher to tie their hands together with plastic ties.
 Sy will face possible charges of kidnapping, attempted mass murder, causing a fire and resisting arrest, judicial sources stated.
if