Financial Fair Play rules 'damaging' Italian football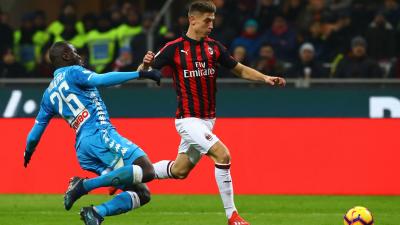 Neither Koulibaly's Napoli (left) nor Piatek's AC Milan (right) look likely to mount serious title challenges thanks to FFP restrictions. Photo Credit: Fox Sports
ROME – The spending capacity of Italian football club owners is being unfairly restricted by Financial Fair Play (FFP) regulations, weakening competition in the Serie A and discouraging foreign investors, a top player representative says.
 Dr Roberto Ciccioli, who is also Head of Tax and Advisory Services at the Consulting Centre in Rome and Milan, voiced his objections in an interview with Italian Insider to the current financial limitations imposed upon European clubs by the Union of European Football Associations (UEFA).
 "If owners want to spend, they should have the autonomy to do so," Dr Ciccioli says, arguing that FFP rules, which require a club to adhere to break-even requirements (balancing revenues and losses equally), significantly reduce the incentive for interested parties to invest in Italian football.
 UEFA introduced Financial Fair Play in 2009 under former president Michele Platini, in an attempt to improve the "overall financial health of European club football" by curbing reckless spending, a statement from the organisation said.
 By preventing the richest clubs from accruing huge debts with their big-money spending, while simultaneously ensuring that smaller teams did not veer from financially healthy positions, UEFA also hoped to address the imbalances between top and bottom clubs in the European leagues.
 "The opposite has happened," Dr Ciccioli says. "In Italy, the gap between Juventus and the rest of the Serie A has been increased by FFP rules." He puts this down to prospective owners being dissuaded from investing in smaller teams both in Italy and across Europe, because their spending capabilities will be significantly be hampered by UEFA's system.
 Added to that, two of Italy's most successful clubs, AC and Inter Milan, have had their wings clipped by FFP violations, despite boasting ownership from an American hedge fund and Chinese retail giant Suning, respectively.
 AC Milan only just avoided being banned from the Europa League for the 18/19 season by entering into a settlement agreement with UEFA and both clubs will have to reign in their transfer market spending over the next two years. Competing with Juventus for the Scudetto in the next few seasons seems very unlikely, Dr Ciccioli suggests.
 "If there are no corrections to the FFP system, Inter and AC Milan will struggle to get back on track," according to 'rossoneri' legend Zvonimir Boban, who won a Champions League title with the club in 1994 and is now Deputy Secretary General of FIFA.
 Speaking to Gazzetta dello Sport, Boban praised UEFA's work in encouraging financial solidity within football clubs but argued that "rules to impose a balanced budget must not prevent entrepreneurs from making new investments."
 A possible amendment to FFP regulations could be the introduction of some sort of 'bank guarantee,' Dr Ciccioli suggests. Club owners would ring-fence a certain amount of their funds for spending in the transfer market and covering debts the club accrues from its acquisitions, ensuring that the club itself remained in a financially healthy state.
 Owners would then be given autonomy over their own investments. They would no longer be hindered by the limitations currently placed on them by FFP rules, provided that they guarantee to bear the financial burden of debts taken on by the club in the transfer market, Dr Ciccioli says.
 Under the proposed amendment, clubs with deep-pocketed owners, like Abu Dhabi and Qatar-backed Manchester City and Paris Saint Germain, would have almost limitless power in the transfer market, Dr Ciccioli concedes.
 Foreign parties, however, would be far more inclined to invest in smaller clubs, particularly in Italy, he suggests, given the considerable opportunities for these clubs to develop and expand. Perhaps then Juventus' iron-grip on the Scudetto may loosen slightly. 
 Equally, bigger spending power in the transfer market would not necessarily translate to Champions League success, Dr Ciccioli adds. In the years before Financial Fair Play was introduced, Real Madrid were the world's biggest spenders, breaking the transfer record a number of times after the turn of the Millennium for one 'Galactico' after another. Yet in that ten-year period, Madrid reached just one final, winning the competition in 2002.
 In fact, in the eight years since UEFA implemented FFP rules, Real and Barcelona have dominated the competition, winning a combined six trophies. Further evidence, Dr Ciccioli suggests, that Financial Fair Play has done nothing to level the playing field among European clubs, but rather has had the opposite effect, particularly in Italy.
 The failure of the system for the Serie A can be seen through the lens of Juventus' acquisition of Cristiano Ronaldo. The arrival of a legend of the sport should be met in the upcoming summer transfer window with similar big-name signings from Juve's rivals.
 However, neither Milan sides will be able to invest heavily, due to previous violations, and Roma and Napoli's pockets simply aren't deep enough. As much as the Serie A has been urged to capitalise on the increased interest in the league, financial restrictions have all-but ensured that the signing of a player in Ronaldo's echelon will, for now at least, be a one-off.
pm
Roberto Ciccioli with Patrick Middleton. Photo Credit: Francesca Halliwell
Gareth Bale's wonder goal for Real Madrid in the 2018 Champions League final gave the Spanish side their fourth European trophy in eight seasons, despite FFP rules taking effect. Photo Credit: Sporting News