Ronaldo accepts 19 million euro fine for tax evasion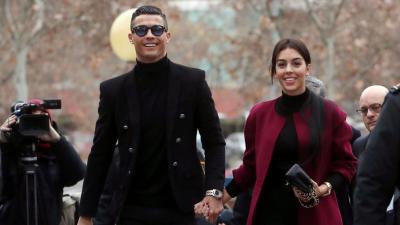 Ronaldo appeared at the courthouse with his partner (Sky News)
MADRID – Juventus striker Cristiano Ronaldo appeared in court on Tuesday to finalise a plea deal with a Spanish court over tax evasion charges.
 The deal, agreed in advance with prosecutors, involves an 18.8 million euro fine and a 23-month jail sentence, which the former Real Madrid star is very unlikely to serve.
 In Spain, those sentenced for under two years in prison don't normally serve time, particularly for non-violent offences such as Ronaldo's.
 The Portuguese forward, who played for Juventus in their 3-0 win over Chievo on Monday night, arrived at the courthouse to a huge media presence, after the judge refused requests firstly to appear over video and then to enter the building in a vehicle to avoid the media circus. Ronaldo did not give any statements to press outside the court.
 Juventus' record signing was accused of avoiding paying tax between 2010 and 2014 while representing Real Madrid. Prosecutors allege that proceeds from Ronaldo's lucrative image rights deals were funnelled through low-tax companies in foreign countries.
 Ronaldo's lawyer claims there was no deliberate attempt to evade tax, but the dispute simply came down to a misunderstanding of the requirements of Spanish law. The agreement with prosecutors had been made in June but required the ratification of a Madrid court.
pm