Heightened Kuwaiti interest in Roma stadium project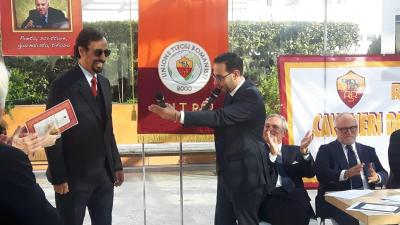 His Excellency receiving the 'Cavalieri della Roma' award (Il Romanista)
ROME – Speculation about whether AS Roma's 'Tor di Valle' stadium project may receive additional support from Kuwaiti investors has steadily increased as the Kuwaiti ambassador to Italy and San Marino has been welcomed in to the inner circles of the club.
 His Excellency Sheikh Ali Al-Khaled Al-Jaber Al-Sabah, who is also a member of the Kuwaiti royal family, became the first non-Italian to be awarded with the 'Cavaliere della Roma' award by the club, a token for the ambassador's fervent support for the team.  
Speaking to the official Kuwaiti News Agency (KUNA), the ambassador expressed his joy at receiving the honour from the club, saying that the award was dedicated to all the football and sports fans in Kuwait.
 He added that football has the capacity to bring people together, stressing that athletes have a responsibility to inspire youth to spread the message of unity, love and fair competition worldwide.
 His Excellency also revealed to KUNA that he had held talks with Roma officials to strengthen ties with Kuwait, including discussing the possibility of holding the club's matches in the country.
Asked about the possibility of Kuwaiti investment in the club's new development by journalists at the event, His Excellency said, "We are waiting for the project to be finished. We want to see what its future will be, it is a beautiful stadium, I have seen the photo."
 "We are always open for dialogue," His Excellency said upon receiving the award, sparking suggestions that Roma could encourage Kuwaiti investors to lend support for the stadium project.
 Some of the country's biggest businessmen have already made inroads into English football. Dr Abdulla Al-Humaidi currently owns fifth-division side Ebbsfleet United, while reports suggest that Fawaz Al Hasawi, former owner of Nottingham Forest, is considering the acquisition of League One Charlton.
 Whether investment does come the stadium's way remains to be seen, but the ambassador's clear passion for the club will undoubtedly be a huge asset for Roma in forging closer relationships with the Middle East.