Interview: TV rights deny Serie A clubs a level playing field
Mauro Icardi's Inter (left) and Gigi Donnarumma's AC Milan (right) have garnered huge worldwide appeal thanks to their respective Chinese and American owners. Photo credit: goal.com
ROME – An unfair bias in favour of Italian football's top clubs in TV rights deals, alongside widespread inflation of players' values, are preventing the Serie A from emulating the unprecedented success of England's Premier League, a top player representative says.
 Dr Roberto Ciccioli, who is also Head of Tax and Advisory Services at the Consulting Centre in Rome and Milan, disclosed in an interview with Italian Insider some of the dubious accounting practices rife in the Serie A. He also explained that the current television deal signed by the Serie A with broadcasting companies Sky and DAZN, tying the league to a contract until 2021, does nothing to address the disparity in earnings between the league's minnows and the top clubs, while also dissuading potential foreign owners from investing in Italian clubs.
 "Currently there is close to a 100 million euro per year gap in broadcasting payments between the top and bottom club in the Serie A, compared to a difference of only 50 million pounds in the Premier League in England," Dr Ciccioli estimates. If the same deal continues after the contract is renegotiated, this gap will keep increasing, weakening the entire league, he suggests. Leicester's Premier League-winning campaign of 2015/16, despite having only just avoided relegation the previous season, was a "freak result, but would never happen in Italy," precisely because of this distribution disparity.
 The comparison between Serie A strugglers Udinese and Premier League mid-table side Watford, both owned by the family of Giampaolo Pozzo, seems to be an apt example of the failings of the Serie A. While Watford received 106 million pounds at the end of the 2017/18 season, Udinese were only paid some 20 to 30 million euros. Even Championship clubs in England (one step down from the Premier League) can earn more from broadcasting than some Italian top-flight teams.
 Given that this TV revenue is by far the biggest financer of a club, the unbalanced distribution of the funds does nothing to alleviate the financial woes of Italy's smaller clubs, Dr Ciccioli says. In many cases, Udinese included, the costs involved with maintaining the club, including players' salary, development of facilities and stadium upkeep, all-but match the broadcasting revenue. Therefore, it becomes extremely difficult for clubs "to make profits and gain financial stability." This makes any investments from interested foreign parties far riskier and far more unlikely.
 Financial instability has plagued Italian football for many years, a recurring phenomenon that Dr Ciccioli attributes to the mismanagement of Italian owners. "Clubs need to be financially independent from the other businesses in the owner's portfolio," he suggests, alluding to the close links often found between the owner's financial situation and that of the football club.
 The recent seizure of assets from Sampdoria's owner Massimo Ferrero by Italy's Finance Police gives clubs a telling reminder of the danger of this approach. It is feasible that the club could now face financial difficulties due to the owner's own failings.  
 Deliberate, devious inflation of players' values, performed often by clubs to avoid losses, is another reason for their financial woes, according to Dr Ciccioli. In 2014, around 50 players were on the pay-roll of Serie A side Parma at the time they filed for bankruptcy, almost double the normal amount. Dr Ciccioli explains that, despite the value of many players in the squad decreasing, the club avoided having to disclose these losses in their financial statements by claiming that their market value was the same as their initial transfer fee.
 This strategy, however, forced Parma to send numerous players out on loan, thus still paying a proportion of their salary, as no club was willing to buy them for an artificially inflated fee. Ultimately, such a financial model was "impossible to sustain and could not be solved without the direct investment of around 30 million euros from the owner."
 A solution to this issue, already being implemented by a number of clubs, is to acknowledge the inevitable depreciation in a player's value as their contract draws to a close, but to record it in instalments in financial statements, Dr Ciccioli says. This would allow their losses to be distributed in a more manageable fashion over a number of years.
 Better financial know-how from Serie A sides will increase the odds of attracting foreign investors, Dr Ciccioli contends, especially if the club is able to survive without support from the ownership. If, as Inter Milan, AC Milan and Roma have managed, a higher proportion of clubs in the league can secure foreign ownership, the Serie A can take a big step towards the Premier League, in which over half the teams have overseas backing.
 Non-Italian ownership brings huge international marketability, as Manchester United, Real Madrid and Barcelona have cultivated expertly over many years. "Though Juventus are the biggest club in Italy, Inter Milan, thanks to its Chinese owners, have a far bigger worldwide appeal, which brings with it increased revenue."
 The bianconeri's record summer signing of Cristiano Ronaldo will have gone some way to alter that, though a huge proportion of revenue collected in the aftermath his transfer (customised shirts, or ticket sales, for example) was still collected within Italy. Juventus' market value has shot through the roof since the five-time Champions League winner switched Madrid for Turin back in July, but the wider impact of his transfer on the Serie A as a whole is yet to properly materialise, Dr Ciccioli argues.
 In theory, the international audience brought to the league by the Portuguese star should benefit other clubs by increasing interest in the whole league, not just the top few sides. However, "much of this benefit would be felt through an improvement in broadcasting revenue, which is unlikely to be re-negotiated until 2021." By this time the 'Ronaldo effect', as it has become known, may well have worn off.
 A higher proportion of broadcasting revenue must go to the league's lower clubs in order to attract foreign investors, Dr Ciccioli maintains. And so, rather than being the saviour of Italian football, as it was hoped he would be by fans and pundits alike, it seems that the Serie A's inability to compete with the Premier League is an issue far above Ronaldo's admittedly astronomical 30-million-a-year paygrade.
Gino and Giampaolo Pozzo (left to right), owners of Watford and Udinese. Photo credit: RTE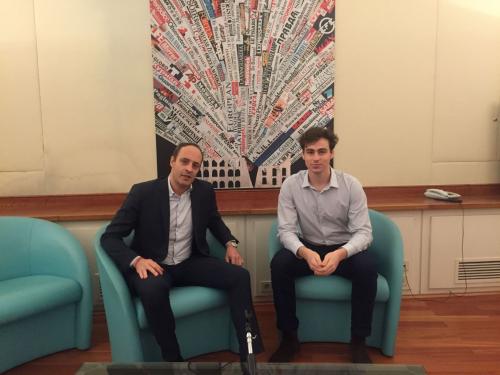 Dr. Roberto Ciccioli and Patrick Middleton. Photo: Francesca Halliwell