Midori meets villagers in poor Vietnamese community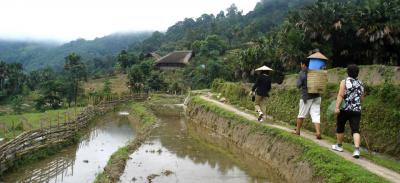 Photo credit: Vietlong Travel. Tuyen Quang province in Vietnam.
HANOI - World-renowned violinist and UN Messenger of Peace, Midori, will travel to rural Vietnam to meet and perform for villagers in a poverty-stricken community. Among other things, she will learn about the challenges the villagers face, including extreme poverty, food insecurity and malnutrition.
 She will also learn about the impact the projects supported by the International Fund for Agricultural Development (IFAD) have had on the lives of villagers. She will be joined by three young musicians, and will visit ethnic minority communities in Tuyen Quang province and perform for local audiences as part of her annual outreach tour.
 IFAD, together with the Government of Vietnam, has recently completed the Agriculture, Farmers and Rural Areas Support Project in the Tuyen Quang, Ninh, Thuan and Gia Lai Provinces. 
 The goal of the project was to improve overall quality of life by increasing household incomes, food security and nutrition levels. This was done by facilitating local participation in suitable on-farm and off-farm economic activities, as well as by increasing smallholder producers' access to markets and private agribusiness investors.
 Households that participated in the improved commercialization of agricultural production, otherwise known as "value chains," increased their incomes by more than 25 per cent by the end of the project.
 Private investment in agribusiness in the project areas increased by 47 per cent in Tuyen Quang, 123 per cent in Ninh Thuan and 49 per cent in Gia Lai, all exceeding the original 25 per cent target.
 By improving household incomes and increasing food production, the chronic malnutrition rate in children decreased by 12 per cent in Tuyen Quang, 18 per cent in Gia Lai and 28 per cent in Ninh Thuan, exceeding the original 10 per cent target.
 In addition, the proportion of rural households suffering from food shortages was reduced by 25 per cent in Tuyen Quang, 47 per cent in Gia Lai and 96 per cent in Ninh Thuan, exceeding the original 20 per cent target.
 In total, 696,801 rural people (73,800 households) benefited from the project which was carried out in 117 poor communities between 2001 and 2016. Of these, 260,834 were women, 446,964 were ethnic minorities and 249,837 were part of Vietnam's Kinh ethnic majority.
 The project, which cost US$60.9 million, was financed by an IFAD loan ($46.1 million) the Government of Viet Nam ($9.8 million) and the beneficiaries themselves ($5 million).
 Since 1993, IFAD has financed 15 rural development projects in Vietnam, for a total cost of $565.4 million, with an IFAD investment of $377.5 million.  These projects have directly benefitted more than 748,470 rural households.
 fh