Cool-headed Carabiniere praised after Lazio attack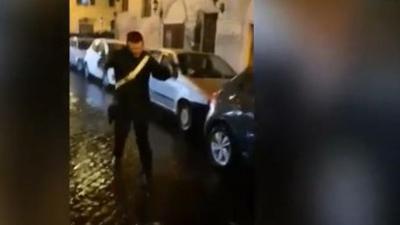 ROME – Defence Minister Elisabetta Trenta has lauded the "exemplary" conduct of a Carabiniere officer, who drew his gun in defence of a lone German fan while being attacked by a mob of Lazio supporters after their Europa League defeat to Eintracht Frankfurt.
 Trenta, who has promised to give the officer in question a commendation, said on Monday that he had shown "extraordinary clarity and professionalism." Interior Minister Matteo Salvini also gave public support for the Carabiniere, tweeting video footage of the incident with the caption: "Huge support for this Carabinere and for all our law enforcement. These are not fans, rather delinquents."
 The footage tweeted by Salvini emerged late on Wednesday evening and shows Lazio fans in Trastevere confronting the officer, who was reportedly protecting a sole Eintracht fan. In order to defend himself and diffuse the situation, the officer pulls out his gun but doesn't fire a shot, even when being threatened. A bottle thrown by a Lazio fan can be seen striking the head of the Carabiniere in the video, an injury which has reportedly kept him from active duty for at least a week.
 Trenta emphasised that more must be done to help officers. "Our soldiers are putting themselves in danger every day," she commented. "They risk their lives to ensure our safety, especially the Carabinieri." "There is a widespread security problem," the Defence Minister added. "We need support of political institutions, so that citizens can feel more secure and law enforcement can operate at their best."