Bullet marks breakthrough in hunt for Monster of Florence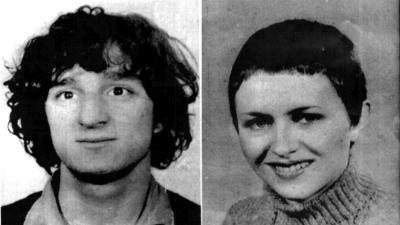 Picture from Vaaju.com: French couple Nadine Mauriot and Jean Michel Kraveichvili, the Monster of Florence's final victims
ROME - A bullet has been found in a cushion inside Nadine Mauriot and Jean Michel Kraveichvilis' tent. The French couple, murdered in 1985, were the Monster of Florence's final victims. According to a report by Il Messaggero, this new-found discovery underlines just how superficial investigators' examinations of the Monster of Florence's crime scenes were between 1968 and 1985.
 The bullet, which dates from 1985, has been given to a special consultant tasked with verifying whether it was shot from a Beretta cal. 22 or from another gun. Mauriot and Kraveichvili were killed on the night between the 7th and 8th September 1985. Mauriot was shot to death and stabbed while sleeping in their small tent in a woodland area near San Casciano. Kraveichvili was killed while trying to escape.
 The Monster of Florence is the name used by the media to identify a series of eight double murder cases that took place in the province of Florence. Although four people have been arrested, the Police has suggested that the real killer has never been identified.
 A new investigation was recently instigated into the homicides by Assistant Prosecutor Luca Turco, prompting investigators to hunt for more evidence. They soon after found a bullet inside one of the cushions which had been sitting in the couple's tent on the night of the murder.
 According to reports, the cushion is in better condition than all other evidence extracted from the Monster of Florence's murder scenes. It is being examined by modern technological equipment, which was not in existence 33 years ago.
 It is currently unknown whether or not the discovery will produce any results. Although the public prosecutor's office has yet to disclose whether or not the discovery has advanced the investigation, investigators will without doubt be able to ascertain which model of gun was used in the homicide. 
 fh