Historic conflict over now-deserted Zubara explored at EGIC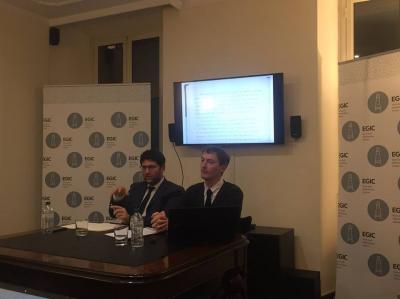 Dr Gerald Power (right) alongside President of EGIC Mitchell Belfer
ROME – The complicated historical narrative of sovereignty claims from Bahrain and Qatar over the town of Al-Zubara were presented by noted historian Dr Gerald Power at the headquarters of the Euro-Gulf Information Centre (EGIC) in Rome as part of the organisation's newest lecture series.
 Dr Power focussed primarily on the role of the British in attempting to peacefully mediate the conflict in the 19th and 20th centuries, which was ultimately settled in favour of Qatar by the International Court of Justice as late as 2001. Using historical documents that were also presented as evidence by both Bahraini and Qatari representatives in the legal dispute over the territory, Dr Power gave an insight into the nuances of Britain's foreign policy towards the area.
 The assumption that Britain followed a stereotypical interventionist path, by imposing borders, for example, as has been seen by a number of western powers in the 20th and 21st centuries, represents an inadequate understanding of the situation in Zubara, Dr Power argued. From the correspondence and notation of British authorities in the area, it seemed clear that Britain were extremely reluctant to define the borders between Bahrain and Qatar, both of whom maintained that Al-Zubara should be under their control.
 Instead, British interests were placed above any interventionist thinking, meaning that the maintenance of peace was a high priority, as was the continuation of commercial activity in the area. Dr Power highlighted that the documents even showed a recognition of the legitimacy of some Bahraini claims to Zubara. Indeed, there was no malicious intent on the part of Britain to cause Bahrain any form of injustice in the eyes of the guest lecturer but acknowledging and allowing the sovereignty of Bahrain over Zubara would have been counterproductive.
 The lecture given by Dr Power forms part of a series of informative evenings hosted by EGIC on a variety of topics regarding the Gulf. The organisation aims to open dialogue between European and Middle Eastern countries on economic and political topics.