'No turning back' for Salvini on budget, despite EU rejection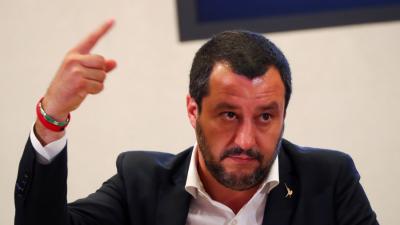 ROME – Interior Minister Matteo Salvini told State broadcaster RAI on Thursday that the government would not amend its plan for the budget, despite receiving an official rejection of the proposal from the European Commission on Wednesday.
 "We don't take backward steps," Salvini maintained on Thursday, having refused the opportunity to make changes to the draft budget after an initial rejection from the EC in October. Italy may now face sanctions over the decision to continue with their plan to increase spending in the face of multi-trillion-euro debt level.
 The report from the EC published on Wednesday said that potential financial sanctions were "warranted," given that Italy had undertaken a "particularly serious non-compliance with the fiscal recommendations for 2019." The organisation's Vice-President Valdis Dombrovskis warned that the Italian government were in danger of "sleepwalking into instability."
 Among the possible consequences of a sanction procedure is a 0.2 percent GDP fine, which would cost Italy billions of euros. However, Dombrovskis underlined that the process could take a long time, and that the EC were still open to discussions with the Italian government on how to solve the disagreement. Meanwhile, Prime Minister Giuseppe Conte has promised to visit President of the Commission Jean-Claude Juncker on Saturday to emphasise the draft budget's "solidity and effectiveness."