Dolce and Gabbana apologise to China over 'racist' ad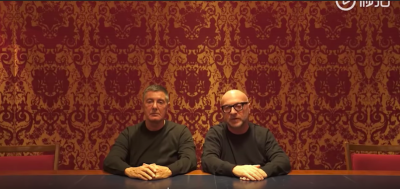 BEIJING – The founders of Italian fashion brand Dolce and Gabbana published an apology to China via Instagram on Friday after the company released an allegedly sexist and racist advert, Il Fatto Quotidiano reports.
 Domenico Dolce and Stefano Gabbana said in an Instagram video, "we have thought a lot over the last few days and are hugely sorry about what happened." The response comes after the brand's products were taken off Chinese e-commerce platforms on Thursday in retaliation against the controversial advert.
 The advert, posted by the Italian brand on the Chinese social media site Weibo on Monday, depicted a Chinese model attempting to eat pizza and pasta with chopsticks, which, according to the site's users, trivialised the country's culture. The model used in the shoot also reportedly had a stereotypically "naïve" appearance with small eyes, which was an apparent racist depiction of Chinese women. The video was taken down within 24 hours, but the hashtag #BoycottDolce had already begun to widely circulate on the social media platform.
 Multiple major Chinese retailers have boycotted the Italian fashion brand's products, including Tmall, JD.com and Suning. Additionally, a D&G show in Shanghai was called off on Wednesday, as the company's social media campaign received strong criticism for its alleged racist and sexist content.
 To add to the controversy surrounding the company, Stefano Gabbana allegedly described China as a "foul-smelling, dirty and ignorant mafia," though he claims that his account was hacked.
pm