Italy facing huge fine from EU after budget rejection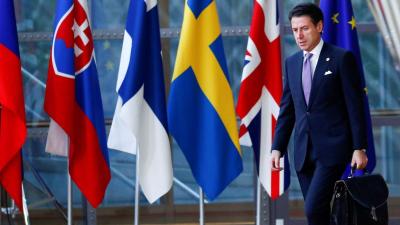 ROME – The Italian government could be forced to pay a nine billion euro fine if it doesn't amend its budget proposal, after the European Commission rejected the plan in its current form this week.
 The Commission said the first budget proposal represented a "particularly serious non-compliance" with recommendations. There are concerns about how a policy of increased spending pursued by Prime Minister Giuseppe Conte and his government will impact Italy's high level of debt. Italy has been given three weeks to respond to the Commission's concerns and submit a new draft of the budget to Brussels.
 Both of Conte's deputies have expressed their anger at the Commission's decision. "This doesn't change anything," Matteo Salvini said, "they're not attacking a government but a people. These are things that will anger Italians even more." Luigi di Maio wrote on Facebook, "this is the first Italian budget the EU doesn't like. No surprise: this is the first Italian budget written in Rome and not Brussels."
 Under the rejected budget proposal, the government had planned to increase its deficit to 2.4 percent of GDP, rather than attempting to lower the figure. This would still fall well short of the three percent limit under eurozone rules, but the Commission is more concerned about the rising level of debt in the eurozone's third biggest economy.
 Conte's solution, set out in September, was to increase spending as a way of restoring growth to an economy that had never really recovered from the 2008 financial crisis. This growth would then provide a platform for Italy to cut its deficit further down the line.
 However, the European Commission's decision indicates their dissatisfaction with the plan, which could lead to Italy being fined up to nine billion euros, should the Commission's requests not be met. This would be the first instance of Brussels using their authority to demand changes in a member states' budget.
 The European Union faces a larger concern, however. Italy's failure to comply with the Commission's demands would open up an infringement procedure that, added to the hefty fine, could preclude access to the purchase of government bonds from the European Central Bank, which effectively act as a safety net. "Italy risks losing access to every safety network in times of market turbulence," Carlo Altomonte, professor of economics at Bocconi, explains. Should the Italian economy then struggle, the Commission's sanctions could prove incredibly problematic for the eurozone as a whole.
 Facing the potential prospect of a collapsed Italian economy, Brussels must decide whether to allow Italy to continue with its plan, or to stand its ground and insist upon amendments, in order to discourage other member states from breaking the rules.