Former AC Milan owner blacklisted by Chinese court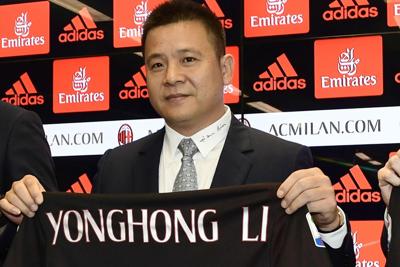 ROME – Li Yonghong, previously an owner of Italian football giant AC Milan, has been added to China's blacklist of untrustworthy people over millions in unpaid debts, according to a local Chinese court.
 The Chinese businessman owed 8.7 million dollars to a Hubei province investment company, as well as a fine of 12 million yuan. However, the court found no assets in his name to repay the creditor with.
 Therefore, Li's name was added to a blacklist of untrustworthy individuals, which prevents him from being able to access credit cards, stay in expensive hotels, or travel by high-speed train. Also, in accordance with measures introduced in May, he is banned from all domestic and international flights for 12 months.
 As a Hong Kong resident, Li will be prohibited from entering or exiting China and, on return to his homeland, his passport will be confiscated. His current location is unknown, according to South China Morning Post.
 The measures are part of an attempt by the Chinese government to create a system of "social credits", Il Fatto Quotidiano reports, whereby each citizen can be classified by their social and financial conduct.
 Li took control of the Milan club from ex-prime minister in 2017, after the Chinese President articulated his wish for China to become a football superpower. The finances of the deal that saw him take charge were, however, somewhat risky, as Li had to take a high-interest loan from U.S. hedge-fund Elliot Management. Once it became clear this summer the Chinese owner was unable to repay the loan, the hedge-fund took control of the club.