Arab lawyers embrace global future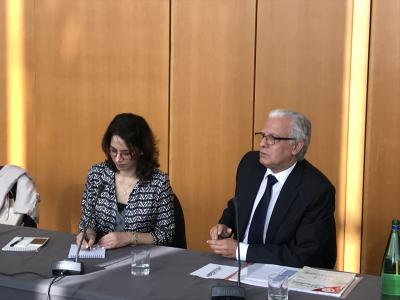 ROME - The 4th Arab Lawyers Forum gathered 300 delegates at the Rome Cavalieri Waldorf Astoria Resort to discuss the impact of global trends and regional regulatory reform. Timed to take place alongside the International Bar Association (IBA) Annual Conference, the Forum has expanded in scope, having only previously been held in Morocco, Egypt and Bahrain.
 Essam Al Tamimi, Senior Partner (Al Tamimi & Co) said, "the Forum provides an elevated platform to comingle international and Arab expertise, discuss the most pressing challenges and trends shaping the legal services industry, and foster deeper ties with the international legal community."
 The event ended with a powerful speech from Mohamed Salah Ben Aissa, the former Minister of Justice for Tunisia and Emeritus Professor of Public Law. He explained how the Tunisian National Dialogue Quartet was awarded the 2015 Nobel Peace Prize for "its decisive contribution to the building of a pluralistic democracy in Tunisia in the wake of the Tunisian Revolution of 2011," and emphasised the importance of strengthening the economy during the democratic transitional period.  
 With 25 industry leading speakers and panellists - including Fadi Ghandour, Founder (Aramex) and Najwa Attiga, General Counsel (Emirates Investment Authority) – the Arab Lawyers Forum explored the latest trends and put forward recommendations across a range of topics.
 On the subject of family, it was emphasised that lawyers and regulatory authorities must do more to help businesses navigate governance and management structures, since under 40% of families have a formalized succession plan in place.
 With regards to technology, it was highlighted that a balance must be struck between law firms' desires to respond to new technological trends and clients' cautious mindsets.
 Furthermore, as corporate counsel is seeking greater efficiency, the necessity to streamline relationships with outside counsel was reinforced.
 Moreover, given the increased sophistication of arbitration in the GCC, it was suggested that Arab lawyers must compare civil and common Law approaches to arbitration.
 LexisNexis, which provides the largest legal database in the Middle East, was one of the strategic partners of the event. Guillaume Deroubaix, Managing Director MENA (LexisNexis) said: "We are delighted to partner with Al Tamimi on this ambitious event, which reflects the commitment of the Arab legal community to embracing global engagement and best practice."
 fh