Largest mobile harbour crane in Med region to be delivered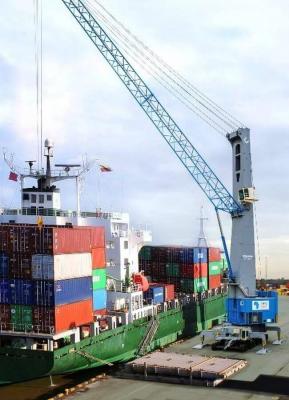 ROME – Lorenzini & C. S.r.l. placed an order valued at four million euros for a Konecranes Gottwald Model 8 crane in the third quarter of 2018. Starting in January 2019 the crane will be handling containers in Livorno, Italy.
 The Model 8 crane, to be delivered and then commissioned on-site, will serve container and ConRo vessels, transporting containers, wheeled cargo and vehicles. The diesel-electric mobile harbor crane will be ready for hook-up to the terminal's grid for even greater eco-efficiency in future.
 Enio Lorenzini, President of Lorenzini & C. S.r.l. stated, "we are already operating six high-performance mobile harbor cranes from Konecranes in Livorno and have opted for the giant Konecranes Gottwald Model 8 crane to expand our fleet. This flexible crane meets the challenges presented by the new vessel sizes and types used by our partner Mediterranean Shipping Company (MSC). Having the largest mobile harbor crane in the Mediterranean region is symbolic of how we are keeping one step ahead."
 Giuseppe Di Lisa, Sales and Marketing Director of Konecranes' Business Unit Mobile Harbor Cranes added, "with this large Model 8 crane, Lorenzini can handle containers across 22 rows and a very high on-deck stack height. We are pleased to see that this new Model 8 crane variant is gaining a foothold in Europe."
 Daniele Grifoni, Lorenzini's managing director, went on to say, "we are certain that the architecture of the Terminal, with this new investment, will have a strong propulsion towards an even greater operational concreteness and better linearity in the management of the embarkation and disembarkation phases."
 Konecranes is a world-leading group of Lifting Businesses™, serving a broad range of customers, including manufacturing and process industries, shipyards, ports and terminals. Konecranes provides productivity enhancing lifting solutions as well as services for lifting equipment of all makes. In 2017, Group sales totaled 3,136 million euros. The Group has 16,200 employees at 600 locations in 50 countries. Konecranes shares are listed on the Nasdaq Helsinki (symbol: KCR). The Italian branch is in Agrate Brianza, Northern Italy. PM