Sant'Egidio community leads fight against death penalty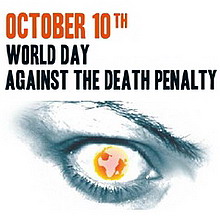 To mark the 16th World Day Against the Death Penalty, which falls tomorrow, Oct. 10, visits to death row have been scheduled worldwide. It comes as no surprise that the Community of Sant'Egidio has strongly encouraged people to visit death row, in continents ranging from the USA to Africa. Over the years, they have organised a series of events and media campaigns to raise awareness of capital punishment: their Cities for Life campaign, which takes place every year on Nov. 30, highlights its unjust and inhumane nature.
 A Sant'Egidio community member writes, "All individuals in society, institutions and governments must respect their civic and humane responsibilities. We must instil in people the hope that in the future capital punishment can be abolished in all national legal systems, as we have already seen in many continents, indeed in Africa, following the example set by Europe, the only continent in which all countries have outlawed the punishment. It is reassuring to learn of Burkina Faso's recent abolishment of the death penalty and Pope Francis' decision to modify the catechism of the Catholic Church, defining it as inadmissible, since the Gospel's teachings are 'more in keeping with the concrete conditions of the common good and more in conformity to the dignity of the human person.'"
 In recent years, people have increasingly challenged capital punishment. So far this year, one thousand people have already approached Sant'Egidio requesting to communicate with a man sentenced to death. Moreover, thousands of European citizens have mobilised support to defend condemned individuals, and have sometimes succeeded in bringing the cases to appeal and stopping the executions. Their plight seem to be paying off – according to World Coalition Against the Death Penalty, 107 countries have abolished the death penalty for all crimes and 7 countries for ordinary crimes. However there is still a long way to go, since major world superpowers, including China, still carry out executions on a regular basis.
 fh