Thieves snatch Rolex of Napoli striker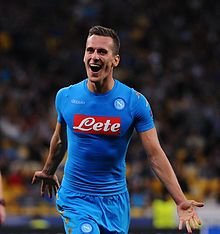 NAPLES – As his team-mates and fans celebrated Napoli's impressive 1-0 win over Liverpool last night, the victory turned sour for footballer Arkadiusz Milik when his Rolex was stolen, police sources said on Thursday.
 The Polish player, a striker for Italian club Napoli, was on his way home from the match against Liverpool at the San Paolo Stadium when two thieves riding a scooter snatched the Rolex watch from his wrist.
 The incident happened at around 2am on a road in Varcaturo, on the outskirts of Giuliano.
 The Rolex is estimated to be worth 7000 euros.
 cc