Italy struggle in Turin as Serbia show their class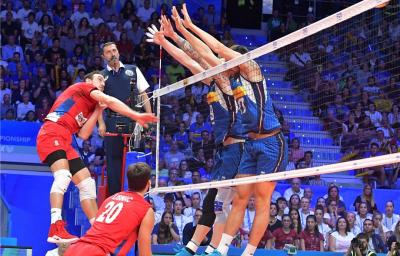 TURIN – It was a frustrating opening to the Final Six group stage for the Italian volleyball team on Wednesday.
 Against a very strong Serbian line-up, the Azzurri could not grab a foothold in the game, getting off to a poor start by losing the first set 25-15.
 Despite drawing closer in the second, it never looked like they would convert their improved performance into a point on the board, as Serbia took the set 25-20, before easing to a 3-0 victory.
 Main man Alexander Atanasijevic led the line brilliantly, as he scored a national record 19 of his side's points. He was well backed up by Marko Ivovic, who served four aces on the way to 11 points. Meanwhile, the top Italians could only muster totals of 11 and 9 points, as the whole team struggled.
 The home advantage didn't seem to have a positive impact on the Italian team, as the 12,000-strong PalaAlpitour crowd in Turin were silenced by Serbia's dominance.
 This now leaves the hosts facing an uphill battle to qualify for the semi-finals in their home World Championships. They face Poland on Friday evening in a must-win fixture, and even then, may finish bottom of the three-team group, depending on Poland's result against the in-form Serbian side.
 In the other Pool, Olympic champions Brazil came from two sets down to take victory over Russia, sneaking the final set 15-12. Such a close-fought victory will give them a lot of confidence moving forward, with hopes of backing up their 2016 Olympic gold.
pm