Vatican comes under fire over Synod on Youth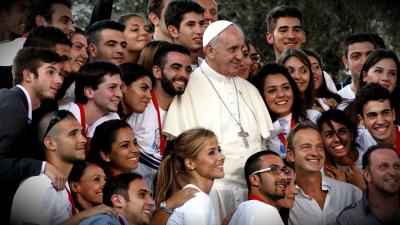 Pope Francis with youth representatives at last year's Synod on Youth
VATICAN CITY – The decision to deny women and young adult lay representatives voting authority in the upcoming Synod on Youth has come under intense criticism from We Are Church International.
 Despite being the focus of the Synod, which takes place from Oct. 3 to 28, both groups have been banned from voting, instead being categorised as "collaborators" and "observers".
  "Once again, the Vatican is demonstrating its total unwillingness to share power and authority with those of us who make up the vast majority of the Catholic church," said Colin Holmes, Chair of We Are Church International.
 He lamented the fact that those who were most invested in the future of young people in the Church had been "sidelined", also criticising the decision not to include women in the voting structure - "How long can this institution continue being so deaf to the cries for equality that are coming from every part of the church?"
 Many, including Holmes, are directing their frustration towards Pope Francis, who has been praised for his rhetoric concerning female inclusion in Church authority.
 We Are Church International has called for all participants in the Synod to be given a vote. "Everyone at the table should have a voice and vote," said Holmes. The organisation has stressed the importance of listening to and addressing concerns raised by the youth and maintains that giving them a voice at the Synod would take a step towards achieving this.
 Instead, there are fears that the Synod, in its current form, will do more to harm than help the cause - "These young people are deeply spiritual and long for opportunities to live the Gospel. But if the church continues to be a place that does not address their need, they will be quick to walk away. We fear the Synod on Youth will further, rather than effectively address, this alienation," warned Holmes.
pm