Conte and Trump a 'united' force after White House meeting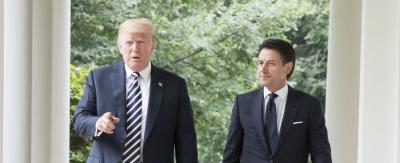 ROME – During a meeting at the White House Italy's Prime Minister Giuseppe Conte was given the green light by the American president on three crucial questions; Libya, a permanent guiding committee for the Mediterranean and finally trade, sources at the Chigi palace confirmed on Tuesday. 
 Conte was received in the White House with a firm handshake from the American president Donald Trump. "Thank you Giuseppe for being here," the president of the USA said. "It's an honour to be here," the Prime Minister responded. In terms of the first topic, Italy can now count on the USA's support during the planned conference on Libya in Italy. This represents a crucial step in the process of establishing political, legal and security conditions for the running of the next political and presidential Libyan elections. 
 Trump has also given his agreement towards a 'permanent guiding committee' between Italy and the USA for the Mediterranean, working towards the fight against terrorism, greater security, immigration and above all Libya. With this committee Italy will be a point of reference in Europe for Libya and a privileged interlocutor with the USA. The idea is that Italy and the USA can together promote and bring about stability in the North African country. 
 Finally, in terms of trade, Conte's mission is to have Trump's guarantee that the interests of Italian businesses will not be affected, particularly in terms of agricultural products. Trump again has given the heads up.
 "Conte is carrying out fantastic work," the president said. "I am very much in agreement with his work on both legal and illegal immigration, as well as his control of borders. Many other countries should follow Italy's example.
 "Congratulations for the great electoral victory," the president continued during the press conference with Giuseppe whom he has hailed as his "new friend". "With Conte we are in agreement that a brutal regime like the one in Iran should never enter into possession of nuclear weapons." On the other hand, "Italy is a great country in which to invest."
 Trump has also threatened a situation of 'shutdown' if they are not funds to secure borders. "Conte will do an excellent job; he knows how to promote and sell Italian products. He will arrive at a record figure. We have a deficit of 31 million dollars with Italy and we have a lot to speak of in terms of trade and armed forces."
 The most surprising part of the press conference occurred at the end, speaking of Iran. The very same president who destroyed the agreement on the Iranian nuclear programme and interrupted the thaw in relations achieved by Obama, yesterday said that he was ready to meet the Iranians whenever they wanted and without preconditions. "I am disposed to meet with anyone who needs to talk," he replied to the question of a possible meeting with Iranian president Rohani, and added "sanctions on Russia will remain as they are."
 The Italian Prime Minister said that "With this successful meeting we have made another step forward in consolidating our relationship. We are two governments in support of change, and there are many things on which we unite. In terms of the committee for Libya there is almost a twinning between our countries."
 He finished by saying that "Trump has given me all the guarantees that I expected. Now we must work with all of Europe to get through this phase. Its necessary to intervene to reform existing conditions whilst negotiating to find solutions. The important thing is that Italy is at the centre of this mission."
 cb