Southern mayor refuses to crack down on beach sellers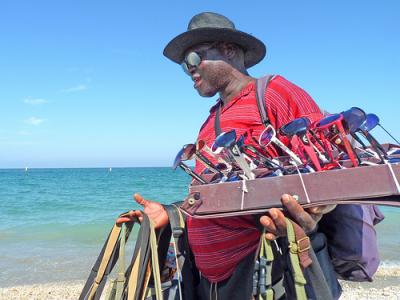 ROME - The mayor of Racale, a popular tourist destination in Lecce, has said "no" to the tightening of the law against beach sellers, insisting that his local police have "more important things to be getting on with", in a public letter published on Facebook.  
 This comes after the Interior Ministry's decision to crack down on Italy's street and beach sellers, ordering municipalities and local police forces across Italy to enforce more seriously the law which criminalises street sellers. The intervention is called "The safe beaches summer 2018 plan".
 In a long Facebook post addressed to the Interior Minister Matteo Salvini, the mayor of Racale, Donato Metallo, wrote: "Policemen are around to prevent local crimes, big and small, to help citizens and tourists, to sort out parking fines (which are committed almost always by Italians) and to save human lives. But clearly for you, Mr. Minister, these do not count as problems."
 "I am writing to tell you that my local policemen will not be sent to patrol the beaches to fine street vendors, the "vucumpra" as some of his Senators so inappropriately call them. I will not obey this order as my policemen have other things to be getting on with; more important and fairer things."
 "Vucumpra" is a derogatory term which was coined in the 80s to refer to Africans who sell merchandise in the streets.
 In the post, which gained thousands of likes, Metallo went on to write "My policemen are very often young men trying to support their families, with young children they want to bring up, and they make great sacrifices to do so. They understand the concept of struggle and need; the last thing I will do is send them to war against poor people, Mr. Minister."
 Metallo concluded his Facebook post with: "Those who write laws should aim to protect civil rights – which means the rights of everyone.  With all due respect to you, Mr. Minister, but my greater respect goes to my principles and the values of my country, Italy."
lb