Investigative journalist assaulted by U.N. security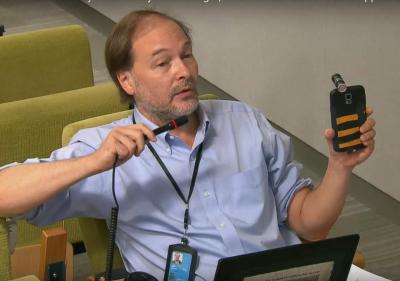 ROME - After being roughed up by New York United Nations Security while covering the U.N. Budget Committee meeting on July 3, the Inner City Press editor and investigative journalist, Matthew Lee, has been banned from attending UN press conferences, Mr. Lee told the Italian Insider.
 Mr Lee covers the 6-billion-dollar U.N. peacekeeping budget along with the coverage of other U.N. corruption investigations, such as a recent one into the U.N.'s indifference towards ethnic violence in Cameroon.
 The U.N. has often victimised Mr. Lee for his investigative coverage of the agency; it all came to a head on July 3 when he was assaulted by an unnamed security guard after the U.N Budget Committee meeting. Mr. Lee was typing up his just-completed interview with the committee's chairman, Tommo Monthe, when the guard approached him and tore his shirt, "painfully and intentionally twisting his arm and slamming shut his laptop," in Mr. Lee's words.
 Video footage here: https://www.youtube.com/watch?v=9wGTrc24YKE&feature=youtu.be
 Since then he has been banned from attending press conferences. Attempting to continue his reporting duties, Mr. Lee has emailed questions to U.N. officials, but has not received a single reply. Guterres' deputy spokeman, Farhan Haq, his deputy Amina J. Mohammed and his Global Communicator, Alison Smale have ignored all of his eight emails and 5000+ signature petition.
 Unable to even enter U.N. buildings, Mr. Lee was forced to sit outside the U.N. gate while the Security Council press conference took place this week. A minute before the conference began, a U.N. official remarked while the microphone was recording: "They'll never let him back in," referring to Matthew Lee, who could be seen sitting by the gate.
 During the conference, UNSG Antonio Guterres' West Africa envoy, Mohammed Chambas, briefed the U.N. Security Council and made comments dismissive of the Cameroon government's violent crackdown on English speakers there, the investigation which Mr. Lee has been carrying out for more than a year.
 Conveniently, there were no questions asked at the press conference and Chambas did not answer those from the Inner City Press which were submitted in writing.
 The Government Accountability Project also put questions to Smale, but has not received a response either: http://www.innercitypress.com/unbansicp9gapsmale071718.html
 "While the U.N. is immune from any First Amendment lawsuit, they play at the rule of law," Mr. Lee said, referring to the fact that on July 9 Guterres' chief of Management, Jan Beagle, issued an Administrative Instruction, ST/AI/2018/8 which permits the "use of force," against journalists like Mr. Lee.
lb