Exhibition dedicated to the Mediterranean to open in Naples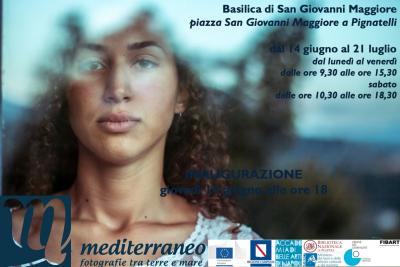 "Mediterraneo: fotografie tra terre e mare" exhibition
NAPLES – On June 14 at 6.30 p.m., the annual exhibition "Mediterraneo: fotografie tra terre e mare" (Mediterranean: photographs of the land and sea) will be inaugurated at San Giovanni alla Maggiore Basilica, in piazza San Giovanni Maggiore a Pignatelli.
 The 2018 edition aims to outline elements that represent citizens of the third millennium in relation to their territory and people.
 The interest in female photography is very dominant this year, as it has been in previous ones. There's also a category within the show dedicated to young people.
 The jury that will be judging the exhibition is composed of eight people: Valeria Ferraro, Laura Pezzenati, Eros Mauroner, Mara Scampoli and Mattia Alunni Cardinali for the contemporary section, Katty Nucera and Francesca De Caro for the women's section, and Julia Carbonaro and Federica Lamagra for the young people's section.
 The show is organised by "Lo Cunto" Association of Social Promotion, which has been dealing with the complexity of the Mediterranean since 2012 through photography, by showing and interacting with existing relationships between current affairs, culture and society.
 The Mediterranean is an ideal territory to focus on because it's so diverse and ever-changing. The exhibition highlights this by presenting photography as a communicator, an interlocutor that invites us to see new points of view and other cultures.
 The annual event in fact captures different genres of photography and is interested in the dialogue between generations of photographers, as well as the development of knowledge and reflections around the arts and cultures.
 For more information visit:
 https://www.facebook.com/MediterraneoFotografie/
 http://www.mediterraneofotografia.eu/web/contatti/
 Ufficio Stampa Mediterraneo Fotografie: info@mediterraneofotografia.eu