Pope Francis: 'Violence never leads to peace'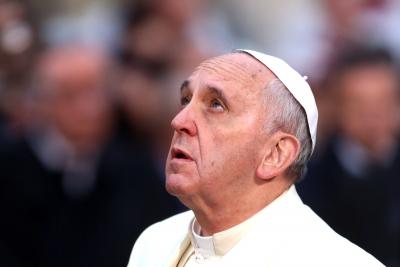 VATICAN CITY – Pope Francis appealed for renewed dialogue in the Holy Land and the Middle East at his weekly Wednesday audience, as hope for harmony in the strife-torn region was knocked back by the recent intensification of ongoing violence.
 The pontiff expressed his "great sorrow for the dead and the wounded," in the wake of Monday's attacks on the Gaza border.
 Israeli forces open fired on mass protesters, killing at least 58 Palestinians and injuring thousands more, aiming to prevent their crossing over the border, local authorities said.
 The demonstrations were held on the same day that the United States carried through the controversial relocation of its embassy to Israel from Tel Aviv to the contested city of Jerusalem. The transfer follows President Trump's announcement last year, fulfilling the contentious promise from his election campaign.
 "I am very worried and pained by the escalation of tensions in the Holy Land and in the Middle East, and by the intensification of violence that is increasingly moving away from the path of peace, dialogue and negotiations," Francis said.
 "I repeat that the use of violence never leads to peace," he added, stressing that "war calls war, violence calls violence."
 "I invite all the parties involved and the international community to renew their commitment so that dialogue, justice and peace prevail," the pontiff concluded.
 Bringing a close to his Wednesday audience, Francis welcomed several Polish World War II veterans to commemorate the anniversary of the battle of Monte Cassino. Expressing his deep sadness at the repetition of violence, spilling across generations, the pontiff pointed to the "two great wars last century, and now ... we never learn. God help us!"
 af