Prime Minister Silvio Berlusconi "scares off foreign investors, senior diplomat says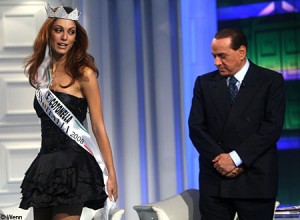 Berlusconi at Miss Italia contest
ROME – The sex scandals that have tainted the Italian Prime Minister, Silvio Berlusconi, have created a major "image problem" for Italy that is scaring away foreign investors who otherwise would have created jobs on the peninsula, a senior Rome-based Western diplomat has cautioned.
 "You have to realise that Italy has a serious image problem because of these scandals," diplomatic sources quoted the envoy, one of the most senior members of the Rome diplomatic corps, telling Italian colleagues in a closed-door conference recently.
 "Companies from (my country) are refusing to invest in Italy" as a result of the current climate, the sources quoted him as adding.
There was no immediate reaction from the Italian foreign ministry, which has effectively been sidelined as Berlusconi and his advisors at Palazzo Chigi have taken direct control of major foreign policy issues.
 The emissary, from a country that traditionally is a close ally of  Italy, did not mention any companies by name. But the sources said the uncertainty surrounding the future of the centre-right Government and the impression from the scandals that Italy "is not a serious" country has been sufficient to discourage a significant number of potential foreign investors who could have had a positive effect creating jobs at a time of sky high youth unemployment and recession.
 The remarks by the ambassador, who asked that he not be quoted by name, mark the first time that a Western Government has acknowledged the severe economic damage hurting Italy from the political uncertainty surrounding Berlusconi's efforts to cling to power in the face of worsening judicial woes that climaxed with his indictment for using an under age prostitute and abuse of office.
Berlusconi mimics shooting a reporter