'Historic achievement' of Terra Seismic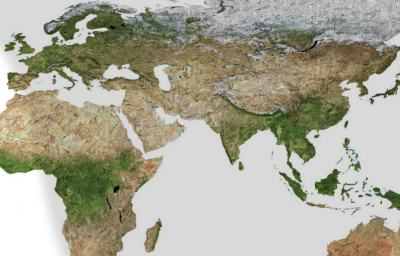 ROME – Terra Seismic, earthquake forecasting Company, says it has been nominated for 2017 and 2018 Peace Nobel Prizes by over 130 university professors from 57 countries, an unprecedented number in whole history. The Company and its scientists were nominated for resolving earthquake forecasting problem and humanitarian activity to protect lives of more than 5bln people living in seismic/tsunami prone countries, officials say.
 Italian Insider interviewed Oleg Elshin, Peace Nobel Prize Nominee, President & CEO at Terra Seismic in Rome.
 Q: Oleg, please tell us about your Company.
 A:  As you know, earthquakes & tsunamis are number one global natural disaster and huge danger for Italy as well. Earthquakes  have killed 800,000 people just over last 30 years, and hundreds of millions more people have been affected globally. Terra Seismic was established in August 2012 with the purpose to resolve earthquake forecasting problem and protect humanity from earthquakes & tsunamis.
 Q: But why earthquakes can be predicted now? Many people believe that it's impossible.
 A: You are right; earthquakes are understood to be unpredictable. Well, this isn't the case anymore. We use US, European and Asian satellite systems and can detect different abnormalities that occur before strong earthquakes. So, thanks to our unparalleled Satellite Big Data technology, in many cases we can forecast major (M6.2+) earthquakes 2-5 months before they occur in all key seismic prone countries. Our technology has been successfully tested for 1970-2018 period and our systems detected ~90% of important earthquakes over last 48 years. So, earthquake forecasting problem has been mainly solved. People who think that earthquakes cannot be predicted will learn this is not true. Let me give you one famous historic example. Just 500 years ago, all mankind believed that the Sun rotated around the Earth. And it was later discovered that they all were wrong. The same thing will happen very soon with earthquake forecasting. Mankind will learn that thanks to Terra Seismic major earthquakes are predictable now.  
 Q: Could you clarify this a bit?
 A:  Of course. In fact, earthquake forecasting is one of most ancient skills known to mankind. The first known forecast was made by Pherecydes of Syros about 2500 years ago: he made it as he scooped water from a well and noticed that water, usually clean, had become silty and muddy. The earthquake did happen indeed two days later, bringing fame to Pherecydes. In ancient Greece earthquake forecasting was recognized science. Unusual natural phenomena, such as seismic clouds, behavior of living beings, etc. may be observed before many major earthquakes. Ancient Greeks were very close to Nature and were able to detect such phenomena and forecast earthquakes. If we had capacity to visit ancient Greece and ask local residents whether it's possible to forecast earthquakes, the answer would definitely be "yes". We have reliable records that earthquakes were predicted many times over human history.       
 Q: Why is Terra Seismic's work so important for mankind?
 A:  Let me give you three citations from letters submitted by our nominators, university professors, to Peace Nobel Prize Committee.
 "After more than two decades helping companies to disrupt their industries, I found in Terra Seismic work, one of the most inspiring purposes with a huge positive impact for the mankind, it has the potential to become one of great "quantic jump" of the human history, as the printing press or space conquer. Earthquake forecasting will save millions of lives and provide a more predictable and secure future for people".
 "Positive impact for the Mankind, to be realized by earthquake forecasting by Terra Seismic, has potential almost unrivaled in the entire human history. Earthquake forecasting will save millions of lives, provide safety & protection for billions, and prevent huge material damage and most dangerous catastrophes, such as the explosion of the Fukushima nuclear plant in the aftermath of Tohoku earthquake in 2011".
 "Until now, humanity always thought that earthquakes could not be predicted, and would never be predicted. Thanks to their exceptional expertise and their hard work, Terra Seismic and its scientists are proving that an accurate probability can be associated with predicting and the advent of an earthquake in the coming several months, in a given zone. This will enable the population and the public authorities to take the necessary steps to avoid huge death tolls and damages in billions of Euros. Terra Seismic started to help governments in some of the most seismic regions of the world. The work of Terra Seismic and its scientists is a milestone in the history of mankind".
 Q: Many scientists are working on earthquake forecasting. Why Terra Seismic resolved this historic problem?
 A: We have few reasons for our success. Firstly, we accumulated all knowledge on earthquakes, their precursors and earthquake forecasting methodologies from all sources available over last 2500 years. We have unique science team. Say, our Chief Scientist published the first article in this field 30 years ago. Secondly, we use innovative satellite Big Data technology and can daily analyze terabytes' of information. Third, many scientists concentrate their research on a specific country/region, such as Japan, Italy, or California only. Thanks to Big Data we can efficiently analyze data from the whole world in almost real time. Fourth, we are very open-minded, we invent and develop completely novel theories and models. I graduated from Oxford, have seven degrees and have worked over seven years in global earthquake forecasting. Finally, we are fully independent from many obsolete dogmas. We have a fresh look on the problem and thanks to this approach we made huge discoveries in this field.
 Q: Tell us about your Nobel Prize Nomination process.
 A: In 2017-2018 we made presentation on Terra Seismic for 130+ university professors. After these presentations, over 130 qualified nominators – university professors from below countries (Italy, San Marino, Greece, Spain, Russia, Armenia, Kazakhstan, USA, China, Japan, Mexico, India, Canada, Turkey, Georgia, Ecuador, Bolivia, Colombia, El Salvador, Panama, Peru, Brazil, Costa Rica, Nicaragua, Haiti, Azerbaijan, Serbia, Slovenia, Fjij, United Arab Emirates, Indonesia, Netherlands, Philippines, Honduras, South Korea, Uruguay, New Zealand, Argentina, Taiwan, Romania, Chile, Dominican Republic, Nepal, Iran, Guatemala, Belarus, United Kingdom, Bangladesh, Macedonia, Kyrgyzstan, Uzbekistan, Algeria, Portugal, France, Singapore and Australia) nominated us for 2017 and 2018 Peace Nobel Prizes.
 We have support from reputable professors from famous European/Asian/US Universities, such as the world's oldest Pontifical Angelicum University, Rome (est. 1222), Sapienza University of Rome (est. 1303), University of Turin (est. 1404), University of Catania (est. 1434), University of Barcelona (est. 1450), University of Westminster (est. 1838), Istanbul University (est. 1846), University of Auckland (est. 1883), University of Tehran, California State University, Northridge etc. We have well-known professors in earthquake forecasting/engineering among our supporters. No one Nobel Prize winner in whole history has ever received such number of nominations and exceptional global support.
 Q: Why Peace Nobel Prize?
 A: Earthquakes & tsunamis are number one global humanitarian problem and Peace Nobel Prize is a humanitarian Prize. Preamble of Alfred Nobel's Will says that Nobel Prizes should be awarded "to those who, during the preceding year, shall have conferred the greatest benefit to mankind". Preamble is a key legal part of Alfred Nobel Will and should be applied for Peace Nobel Prize as well. Alfred Nobel was an inventor and intended Nobel Prizes should be awarded for "the most important discovery or invention". Terra Seismic's discovery that major earthquakes can be predicted is the historic fit with Alfred Nobel's Will. 
 Peace Nobel Prize is also often given to persons who fight for human rights and/or for their efforts in humanitarian areas. The right for life is the paramount human right. Terra Seismic is launching global humanitarian projects to protect lives of billions of people in seismic prone regions. Then, Terra Seismic Nobel Prize will be brilliant fit with this tradition as well. Finally, Alfred Nobel's idea for Peace Nobel Prize was to promote globally and support people thanks to whom massive loss of human lives would be prevented. Wars kill a lot of people and earthquakes & tsunamis are actually wars against mankind. Earthquakes kill 2.5-3 million people every century and thanks to Terra Seismic millions of lives will be saved every century and huge economic damage will be prevented. Positive impact from Terra Seismic's work will last thousand years for all future generations. In the whole history of Peace Nobel Prizes, it's difficult to find cases that fit so properly and simultaneously all above-mentioned criteria. Peace Nobel Prize should be given for the greatest achievements available. We have such greatest & historic achievement – we can forecast many major earthquakes.  
 Q: Who will support Terra Seismic globally?
 A: Everyone would agree that the ability to predict major earthquakes deserves an undisputable Nobel Prize. I often visit seismic prone countries and regions. We have full understanding and unbelievable support in seismic probe countries and this support is growing every day. We are doing very successful global marketing campaign and before this October at least 100-200 mln people in seismic probe countries will know, support Terra Seismic Nobel Prize nomination and read nomination letters submitted to Nobel Committee on our site www.terraseismic.org. Many of our nominators, university professors survived earthquakes. They submitted very dramatic & argumentative nomination letters.
 Q: Do you have support in Italy?
 A: Yes, we believe that whole Italy will support us. Say, 20 Italian professors nominated us for Nobel Prize. I often visit Italy and Italian highly seismic prone regions, such as L'Aquila. We meet with people, businessmen, looking for new solutions and quake mitigation measures and how we can establish our systems in Italy asap. The Company makes presentations, sees full understanding and agreed to consult San Marino Republic Government. Of course, we are happy to provide our services to Italian government as well.        
 Q: Yes, I agree, I'm very impressed by your presentation. Do you have a scientific priority?
 A: Yes, Terra Seismic priority is established and undisputable after two Forbes articles, Le Monde and other articles were published in 2015. Bernard Marr, a famous best-selling author, wrote a book with Terra Seismic's case. In this book Terra Seismic's case is located between Google's and Apple's cases. Hollywood studio will produce blockbuster on Terra Seismic.
 Q: Are your systems used in practice? 
 A: Yes, Terra Seismic obtained the first commercial client, a blue chip UK asset manager, in November 2013. Thus, our technology is in practical use since November 2013. A top US earthquake insurer is Terra Seismic's client since June 2015. But, our paramount priority is to save human lives, protect billions of people, and mitigate economic damage produced by earthquakes & tsunamis. We make presentations, establish relationship with governments, Red Cross organizations, university professors around the world.
 Q: Do you think that the problem is so global and cooperation is needed?
 A: Yes, we call for cooperation with all governments, Red Cross organizations and all entities who are responsible for mitigating earthquake & tsunami risk. Terra Seismic develops an action plan that should be implemented before major quakes. According to this plan the governments need to examine and reinforce the critical and important infrastructure in the areas of a forthcoming quakes – hospitals, schools, cultural heritage buildings, etc. It's estimated that millions of effective investments in loss prevention measures before earthquakes will save billions that usually spent for recovery after earthquakes. So, thanks to Terra Seismic trillions of economic damage produced by quakes/tsunamis will be prevented and these huge saved funds will be used for other purposes. Terra Seismic is also launching global humanitarian projects to educate billions of people in seismic prone areas about natural precursors before major quakes to be better prepared and save human lives.
 Q: Should Nobel Prize serve as a tool to mitigate earthquake problem globally?
 A: Yes, Nobel Prize will create a unique chance to promptly expand Terra Seismic humanistic technology across all 100+ seismic prone countries. We deserve this Prize, but we also need Nobel Prize as a very powerful tool to resolve earthquake & tsunami problem. After we get this Prize we will have the capacity to invest billions in further research and people protection measures. Then, earthquake/tsunami danger will be greatly mitigated globally just within next 2-3 years and forever.
 Earthquakes kill people every 2-4 months in different parts of the world, so this is a very urgent issue. Now Norwegian Nobel Committee can stop this killing and produce the most famous, humanistic, undisputable and historic Nobel Prize in the whole Nobel Prize history. Nobel Committee decision to award Terra Seismic will help save millions of lives, will be welcomed by billions of people globally and will start a new, more positive era in human history.
 Q: Thank you.
 A: Thank you for your time & interest.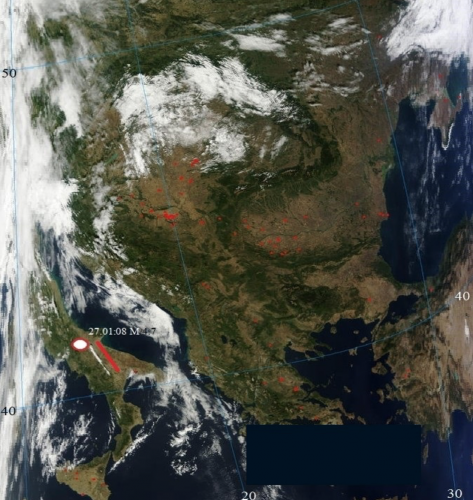 Unusual Phenomena: "Seismic" cloud before earthquake in Southern Italy
Colorful seismic clouds two hours before Wenchuan 2008 earthquake