Sceptical prosecutors scrutinise AC Milan acquisition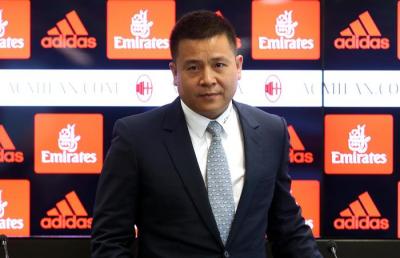 ROME – The Milan Public Prosecutor's Office has confirmed its investigation into the sale of AC Milan in which current co-owner and Chairman, Li Yonghong, purchased the club from Silvio Berlusconi's Fininvest. The announcement follows the disclosure of three "reports of suspicious transactions".
 Assistant prosecutor, Fabio De Pasquale, has opened "Model 45", a file comprising the three Guardia di Finanza reports relating to last April's 740 million euro acquisition of the Serie A club, which involved the use of offshore funds. The file has not lead to any individuals being placed under investigation up to now.
 The Financial Intelligence Unit of Bankitalia had been sent the information, as is required of banks, financial intermediaries or other professionals in the event that they "know, suspect or have reasonable grounds to suspect" that money laundering is ongoing, has been carried out or has been attempted.
 This week, reports have emerged surrounding the recent nose-dive of several of Li Yonghong's Chinese companies, including the bankruptcy Jie Ande, of one of his key holdings. These events have, unsurprisingly, raised eyebrows as to where funds for the remaining repayment will be obtained, including the reported 303 million euro loan from Elliott Management Corporation.
 Mr Li had previously condemned queries about his acquisition of the Rossoneri from Berlusconi's company, stating that the procedure "was always carried out with the utmost transparency, regularity and correctness, with the support and consultancy of financial and legal advisors of a (high) international level." He had added that the club would seek "all suitable legal action to best safeguard [its] image, reputation and economic consistency".
 Milan's general manager, Marco Fassone, has endeavoured to calm the turmoil currently overshadowing the club, reiterating the "excellent" relationship with Mr Li as well as with Elliott. Seeking to reassure both fans and UEFA, he added his firm belief that no extension with Elliott will be necessary.
 However, the financial uncertainty encompassing AC Milan arrives as another unwelcome headline for the club whilst potential consequences of the investigation materialise.
af