Beer Attraction and Italy's 'grape ale' style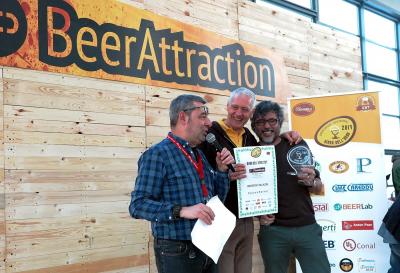 Kuaska and the winner of the Beer of the Year.
ROME - The news is important for the entire beer world. The characteristics of an Italian Style, absolutely typical of the beers brewed along the peninsula, are now also permanently recognized by the "Beer Judge Certification Program" (BJCP), the international non-profit association whose members are tasters and judges of competitions dedicated worldwide to this beverage. This result has been achieved by "grape ales," i.e. those with a direct connection with grapes, whether white or red, with the must, which investigate the frontiers between hops, malts and grapes.
 According to Lorenzo "Kuaska" Dabove, internationally-renowned beer taster, writer and teacher, as well as a judge with lengthy experience (eight times at the World Beer Cup, six at the Brussels Beer Challenge, 10 at the European Beer Stars), this is the point from which to begin understanding where the Italian beer movement is heading.
 "We often take it for granted that we already have a long history. Whereas, in fact, we only have a 20-year story behind us. We describe breweries such as Baladin or Birrificio Italiano, which were founded in 1996, as historical. But on the jury with me at the Beer of the Year competition, for example, there's Ivan Chramosil from the Czech Republic who collaborates with Prague's oldest brewery, "U Fleků", which has existed for 500 years", explains Kuaska during a pause in two days of tasting where they are examining 1,650 different Italian beers.
 "Our style has been accepted and recognized at world level. I've been an international judge for years and have always dealt with English, Belgium, France, American, Australian or Asian styles, but finally, with grape ale, a product has been identified as typically Italian. And let's not forget how our labels and bottles are considered the most attractive and creative and every year receive international awards dedicated to this aspect of the beer."
 "Grape ales are the result of a unique characteristic of Italy - its biodiversity. In a few kilometres the fragrance and aroma of the raw materials change, and this is the greatest force we have", continues Kuaska. "However we must make more progress at entrepreneurial level. Whether a brewery is large or small, it's a business. Brewers must also begin to think like entrepreneurs, learning to manage their set-ups from an economic point of view, and as far as distribution and marketing are concerned. There are important organizational aspects that must be borne in mind. Laboratories, plant and commercialization are required. Beer can suffer from incorrect transport and preservation: both fundamental aspects for ensuring quality beer."
 In the meantime, for the "Beer of the Year" competition, which considers 41 different categories with no less than 1,650 different labels presented by 279 brewers, no less than 84 judges will be at work. They include some of the most important names in the world of beer critics: Melissa Cole (UK), Sandra Ganzenmüller (Germany) authoress of books on beer; Ivan Chramosil (Czech Republic), with 56 years' experience in beer commerce to his credit and 44 as master brewer in the Czech Republic's oldest brewery; Philippe Wouters (Canada), editor of the most influential French-language media dedicated to craft beer; Tim Webb (UK), British author of the book "Good Beer Guide Belgium"; Yvan De Baets (Belgium), master brewer and member of the Brasserie de la Senne in Brussels; Carl Kins (Belgium), beer expert, executive member of the EBCU (European Beer Consumers' Union).
 Focus On Beer Attraction 2018
 Dates: 17-20 February 2018; organizers: : Italian Exhibition Group SpA in collaboration with Unionbirrai, FIC (Italian Federation of Chefs) with the patronage of: Emilia Romagna Region, Rimini Municipality and Italgrob; media partners: GBI, Il Mondo della Birra; frequency: annual; edition: 4th; admission: from 17th to 20th February trade members only,  on Saturday 17th February only: also open to the (adult) public of foodies and gourmet consumers; hours: Saturday 17th, Sunday 18th and Monday 19th February: 10 am – 6:30 pm; Tuesday 20th February: 10 am – 5 pm; visitor info:en.beerattraction.it/visitors; e-mail: infovisitatori@riminifiera.it; Web sites: www.beerattraction.it www.bbtechexpo.it  #BA2017 @BeerAttractionFacebook: www.facebook.com/BeerAttraction
By Gianfranco Nitti