Italian pavilion performs well at MATKA tourism fair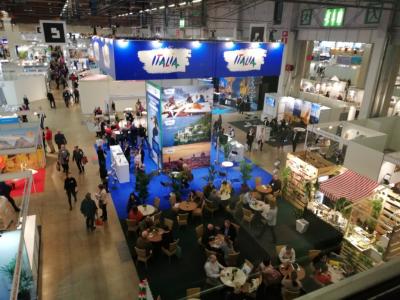 The Italian stand. Image: Gianfranco Nitti.
HELSINKI - The 32nd edition of the International Tourism Fair, MATKA, the main one in Scandinavia, took place recently in Helsinki, Finland. The total number of visitors amounted to approx. 63,000 (14,000 of them professionals), a decrease of about 10% on 2017.
 Among the 83 countries represented, this year the Italian pavilion had a visible presence and performed well. Arranged by the Enit of Stockholm (Italian Tourism Board) with the support of the Embassy of Italy, the pavilion included representatives for the Lombardy Region, Lake Como, Imperia Chamber of Commerce, Dacia tra Cielo e Mare, Morandi Tours, Grand Hotel & Spa from Castrocaro Terme and Bed&Bike. Alongside them, Hurray Italia of Rome and the Royal Hotel of Sanremo were also in attendance and even Lake Maggiore had its own stand.
 At the Matka fair, Umbria was awarded the "Dream Destination" by Mondo magazine. The Italian Ambassador to Finland, Gabriele Altana, accepted the award together with Anna Andersson from ENIT Stockholm.
 The commitment of the Municipality of Como to promoting its territory on the Scandinavian market through sport and the Lake was noteworthy. On January 20, within the space reserved for the Lombardy Region, the rising star of the Como Rally, Emil Lindholm, presented the winner of a quiz with a stay in the city of Como on the occasion of the event. The ENIT headquarters in Stockholm and the Municipality have also prepared an educational tour on the occasion of the rally.
 Elsewhere, the stand of the Finnish airline, Finnair, turned Italian heads with a glossy Vespa stood amidst a Mediterranean scene. As always the Lapps themes were original in the stand of Inari and Rovaniemi, the home of the real Santa Claus.
 The final numbers for MATKA 2018:
 Number of visitors 63,600, including 14,000 trade visitors (visitors 2017 : 71,000 / visitors 2016: 68,000)
 Number of exhibitors 915 from 83 countries.
 On the Matka Workshop 2018 Day:
 Suppliers: 112 tables at Meet Finland, for 126 companies; 69 tables at the Global Workshop, for 80 companies. Buyers: 300 buyers from 35 countries and 7600 meeting requests.
 The next edition, the 33rd, is already scheduled from 18 to 20 January 2019.
Text and photos by Gianfranco Nitti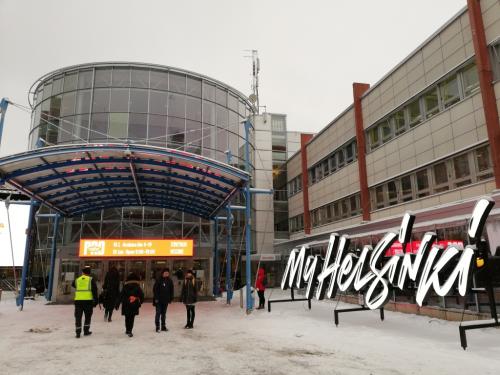 MATKA. Image: Gianfranco Nitti.