Pensioner 'used as shield' in mafia shoot-out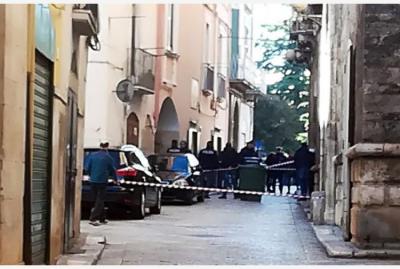 The scene of the ambush in Bitonto
BITONTO - Mafia hitmen trying to gun down a 20-year-old member of a rival clan near the Apulian city of Bari shot and killed an 84-year-old woman used as human shield as she was on her way to attend Mass in church during botched ambush while the  targetted gangster survived with minor wounds, police said Sunday.
Officers identified the dead woman as Anna Rosa Tarantino, and said she was caught in a hail of 30 bullets fired Saturday at Giuseppe Casadibari, 20, who has a previous conviction for drug dealing and is considered close to the Cipriano clan of the Sacra Corona Unità, the Apulian version of the Sicilian Cosa Nostra.
 At least two gunmen took part in the assassination attempt, firing a sub machinegun and a pistol, police sources said. A fatal shot from the pistol killed the pensioner, who died in an ambulance rushing her to hospital, while Casadibari survived with a bullet in a lung, leading investigators to speculate he may have used Tarantino as a shield. He was being treated at the Bari Polyclinic hospital.
 Bisontino has been the scene of a violent feud between the rival Cone and Cipriano families for the past decade.
 A short time after the slaying, the Cipriano clan staged a revenge attack, firing 31 shots from a speeding motorbike at homes of members of the clan headed by Domenico Conte. An alsatian dog guarding Conte's home was wounded.
 The Mayor of Bisontino, Michele Abbaticchio, said "I am in pieces" after the attack. "A woman of 84 has lost her life due to a shoot-out of whuch she was just an innocent spectator. The citizens will ask for a settling of accounts and justice for their daughter.
Events to celebrate the New Year and Epiphany were cancelled in the town as investigators examined close circuit tv footage to try and identify the gunmen.