Ten billion lost along with Italy's world cup hopes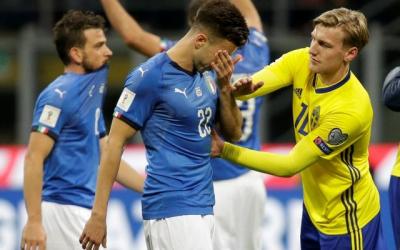 ROME -  Certainly the national pride of the Italians, as well as a stinging loss of up to 10 billion euros, has disappeared along with their confidence in their boys in blue. Italy has failed to qualify for the World Cup after a second loss to Sweden. A great victory for the Swedes, qualifying for the first time since 2006, Italy's failure is harshly felt as this is the first time the team has failed to qualify for the World Cup since 1958, only the second time in history.
 Despite 75 percent possession, Italy just could not score against Sweden. Despite 23 shots against the Norsemen, their defensive strategy was just too strong, notably Olsen's terrific save against Allessandro Florenzi. Following soon after Jakob Johansson's goal, bringing the Swedes 1-0, must have given the Italians flashbacks to their loss against the Swedes on Friday night.
 The Italians seemingly became unnerved by the Swedes' lead. "We had no weapons left. We just had to sit there and hope we could hang on," said Jan Andersson, Sweden coach, "we couldn't do it in any other way, and they are so skilful."
 And so the Swedes held their ground as reality dawned on the Italians, the prospect of not qualifying was likened to the apocalypse, a reality that the world watch unfold on the stage on the Milanese stadium. There was "a funereal atmosphere" said De Rossi, "it's a dark moment for our football … beyond everything that was wrong tactically, technically and physically, we just did not deserve to qualify."
 Italy's coach, Gian Piero Ventura, said after the final whistle that "I want to apologize to the Italian people for the result … not for the commitment, and the desire and everything else but for the result."
 Unfortunately for Ventura, it is the result that counts. Italy not progressing forward has lost the nation up to 10 billion euros in revenue through sponsors, advertising, and tourism without taking into account the maximum 57.2 million that the club could earn from becoming champions of the world.
 It is very likely that Ventura will lose his position as coach as a result of the national humiliation that occurred on his watch. Buffon assured the nation that "the blame is divided equally among all of us. There must be no scapegoats … we win together and we lose together."
kvh