Narrow victory for M5S over right-wing parties in Ostia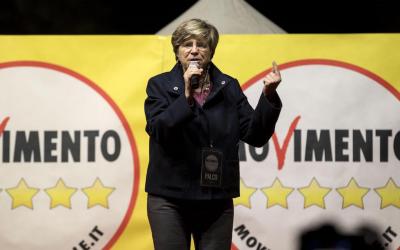 Giuliana Di Pillo. Photo from ilpost.it
ROME - The Five Star Movement (M5S) has narrowly won the first round of mayoral elections in the seaside town of Ostia near Rome, their candidate, Giuliana Di Pillo, gained 30.3 percent of the vote. Commentators have emphasised the importance of the mayoral election as a litmus test for Roman sentiment as a whole which makes this a significant result for Roman mayor and M5S member, Virginia Raggi.
 One can view the results in Ostia as a decisive swing away from the establishment with the MS5 defining themselves against the career politicians of the major parties which they view as corrupt. Worryingly though, the trend is also moving away from centrist politics. M5S's main rival is a coalition formed between Berlusconi's party Forza Italia and the Brothers of Italy (FDI), a right-wing populist party whose philosophy is based in conservative nationalism and euro-scepticism. M5S is only 3.4 percentage points ahead of Forza Italia, a trend that could certainly shift in the next round of the election as the two parties go forward.
 Monica Picca, running for a coalition between various parties including Forza Italia and the far right Brothers of Italy, won 26.7 percent of the vote. Brothers of Italy (FDI) councillor, Andrea De Priamo, has remarked that the success of the M5S can be seen as "the first serious consequence" of the removal of Ostia's council two years ago under suspicion of corruption. The swing towards the right politics is not limited to Picca's coalition as Casa Pound, a neo-fascist party that is openly militant towards Jews and immigrants, won 9.6 percent of the vote, up from 1.8 in the last election, some areas of the municipality gave up to 15 percent of vote to the party. Together, 36.3 percent of the vote belongs to the far-right.
 It remains to be seen what will happen on Nov. 19 when M5S and Picca's coalition will run head to head in the second vote. Picca's coalition may well attract the far-right voters due to the populist and nationalist elements brought in, however, M5S could possibly bring in this demographic as the party expresses a clearer populist vision that, as seen in the America election, can blur the line between left and right for many voters who are disenfranchised.
 The true political allegiances of the Ostia public remain a mystery as only one in three eligible voters came out to vote. Drawing too many conclusions from this can be misleading as it is likely that those associated with fringe groups, such as Casa Pound, are more likely to vote than those who have more conventional political leanings.
 It seems that after two years of direct rule from Rome from the MS5 party following the disbanding of the local government, they have garnered greater popularity which points to probably final victory for the party.
kvh-hl