Lazio club and owner charged with breaching fairness rules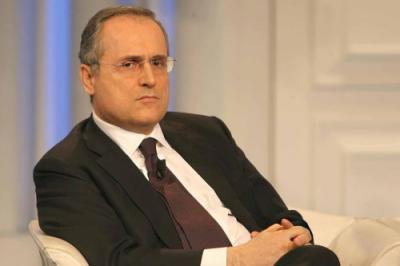 ROME - Lazio has been charged with breaking rules on "sporting fairness" after fans were found with anti-Semitic stickers at the Lazio-Cagliari game last week. The prosecutor's office, headed by Giuseppe Pecoraro, has closed the investigation into the actions at Sunday's match, and has decided to press charges.
 The Italian Soccer Federation (FIGC) has formally charged both the Lazio club, and the Lazio chairman Claudio Lotito with breaching fairness. These charges have been brought about as Lazio allowed their "ultra," hard-core fans, into the Roma-supporting end of the stadium after their own end was closed due to racist chanting at an earlier match. Lotito faces up to four months of partial ban from team activities, and this will include not being able to enter the locker room or speak to any referees. It is likely that the ban would not restrict him from attending practices, or running everyday operations of the club.
 Both Lazio and Lotito are also charged with breaking rules on discriminatory conduct, as Lazio fans printed out stickers of Anne Frank wearing a Roma jersey and posted them on the walls of the stadium. For this action, Lazio may be ordered to play a game behind closed doors, according to FIGC.
The Lazio fans responsible for the anti-Semitic graffiti have been identified, and twelve people are currently under investigation. One of the group is 13 years-old and is set to be put before a minors prosecutor. 6 of the remaining 11 are said to be "Irriducibili," far-right "ultra" fans. 
hl