Heroic granddad dies as rains lash Italy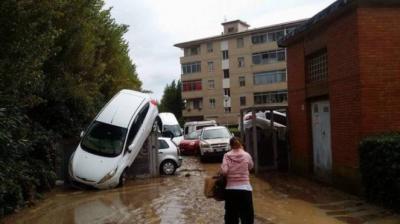 Disaster scene in Leghorn
 ROME -- Italians paid tribute Sunday to a heroic grandfather who died after saving his three-year-old granddaughter in a basement apartment flooded by the heavy rains that lashed Tuscany during a storm over the week end, killing several people.
 Roberto Ramacciotti, 65, lived in a separate flat above his grandchildren and their parents, Simone and Glenda Ramacciotti, in an apartment block in the viale Nazario Sauro near the station in the port city of Leghorn (Livorno).
 After waking during the deluge yesterday he raced downstairs and dived into the flooded apartment. He managed to bring out to safety his three-year-old granddaughter, Camilla, before then going back into the flooded garden flat several times to try and save her brother. After diving into the basement a fifth time he failed to re-emerge, losing his own life in the attempt, firefighters quoted by the Corriere della Sera said.
 In all at least three other people died in Leghorn from the flooding in addition to the family of four, taking the death toll to at least seven, authorities said.
 "The little girl survived due to the heroic gesture of her grandfather," the Livorno Telegrafo newspaper reported. Roberto and his son Simone both had worked as insurance agents in the nearby city of Empoli but Roberto had retired to enjoy his pension.
 The young family was sleeping when the water rushed through their small garden into their flat and they had no time to react, firefighters said. Divers from the local fire service were working in the flooded flat to recover the bodies as tearful neighbours watched outside.
A number of tourists visiting the area had to change their plans after the Leghorn train station was closed from 3 a.m. yesterday and a campsite was evacuated.
 The stretch of coast near the city has been a favourite haunt of British tourists since the drowned body of the Romantic poet Percy Bysshe Shelly washed up at the nearby resort of Lerici in 1822 and was cremated on the beach by Byron and other friends.
 "The situation is very difficult, it's critical. The city is on its knees," Leghorn mayor Filippo Nogarin said.
 The Italian Government had underestimated the danger, issuing a code orange alert for the region rather than red, said Mr Nogarin.
 "We didn't expect this because the alert was orange. Then we woke up to this," he said adding that the death toll "may still rise" and could have been avoided entirely.
 Italy's civil protection service said the code orange alert for Florence was still in place as the storms, which began in northern Italy overnight, swept down the country towards the south.
 Underpasses were closed in parts of Rome, and seven metro stations were shut due to flooding. The city council asked residents to stay at home unless they had urgent business and to avoid parks until they had been checked for possible falling trees.