Police on alert after new migrant housing protest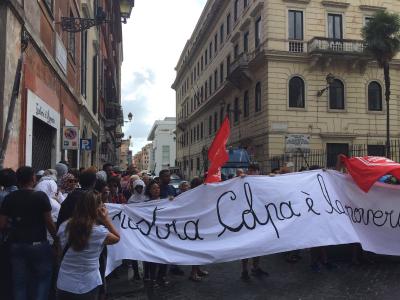 ROME- Police were on high alert Friday morning following a spate of tense incidents involving homeless migrants and housing activists in the capital. A group, who had previously been evicted from Piazza dell'Indipendenza, gathered in the Via di Ripetta Thursday afternoon blocking the artery street for several hours before they were cleared by police.
 Tensions continued to run high as the group of migrants and activists set themselves up in protest in front of an abandoned hospital building, on the street leading to Piazza del Popolo, apparently with the intention of occupying it.
 Anti-riot police forces removed the protestors who were sitting in the street, physically lifting up women and carrying them to the Piazza. In response the crowd shouted at the police "shame on you for putting your hands on these women." Some of the girls who had been lying mid-street, were dragged to the side of the road. One of these girls accused the police of having punched her.
 The violence continued further down the street in the Piazza where the group reassembled, surrounded by cordons and armed police officers. The police report that two of the leaders of the protest were taken to the police station, by three Carabinieri officers where their role in proceedings was assessed. Police headquarters added that intention of the "sit-in" was to eventually "occupy the building they were positioned in front of, which had been the site of the old S. Giacomo hospital".
 The group were not granted the right to form a procession and march down to Piazza Venezia. In response they sat on the ground in the middle of the street chanting "we're not moving from here until we have a response" and accused mayor Raggi of not having "moved a finger" to help women and children living on the streets of the Eternal City.
 All identified protesters will be charged for unauthorised demonstration and will be fined a whopping 2500 euros for having blocked the street, police said.
 jp-es