Minniti strengthens Italian-Algerian cooperation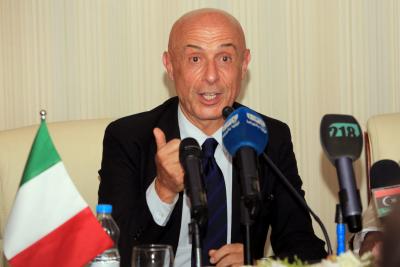 Italian Minister of the Interior Marco Minniti
ALGIERS- Given the increased influx of immigrants arriving from the Algerian shores, Marco Minniti's diplomatic trip to Algeria come as no surprise. On Monday, the Italian Minister of the Interior met at Algiers with his Algerian counterpart, Noureddine Bedoui, to secure an understanding on the issues of human trafficking and the fight against terrorism.
 In the past few months, Sardinia experienced a fall in the arrivals of illegal immigrants from Libya, but a steep 17.7 percent increase in the arrivals from Algerian routes. In the last four days, eleven landings brought 160 migrants to the Sardinian shores, bringing total number of immigrants to 800 since the start of the year. At this rate, 2017 could easily witness the arrival of more 'Algerian' migrants than the previous year (1,106).
 Italy and Algeria have historically good diplomatic relations, as highlighted by Minniti himself, who praised the North African state, expressing gratitude for the role it has been playing in the war against terror. ''The history of the Mediterranean would have been different if the Algerian state had not stood strong'', said the Italian minister in reference to the challenges North Africa faced in the last years.
 The Italian-Libyan talks are to expand the strategic alliance between the two countries first established in 2009. Closer cooperation between the two countries' secret services, and between the Algerian Gendarmerie and the Italian Carabinieri, will follow, especially on matters of intelligence sharing and coordination in interventions. These agreements are expected to curtail illegal landings in Italy, and increase the efficiency of the two police systems to face the challenges of international terrorism.